Gay Atlantic City: The Latest
Kevork Tontian met the man he wanted to spend the rest of his life with behind bars. And not even his freedom was enough to keep him away from Wemson Gabral da Costa.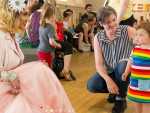 In Missouri, a Republican lawmaker has drawn up legislation that proposes to punish libraries and their staff for drag queen story hours or other "age-inappropriate" content.
A male massage therapist working at a Minneapolis spa was fired by the business and charged by the authorities with sexual assault when a client filed a complaint alleging that the therapist touched him inappropriately during a massage session.
Model Karlie Kloss addresses being called out for her relationship with the Trump family during an episode of "Project Runway" and how she plans to vote in 2020.
Bad news for fans who wanted a second season of the "Watchmen" TV show.
The superintendent of an Alabama school district issued an apology after a group of high school baseball players shouted homophobic slurs at a same-sex couple.
In the first such case in South Korea, military officials will determine next week whether to discharge a solider who recently undertook gender reassessment surgery, officials said Friday.
An HIV-awareness campaign featuring condom wrappers with cheeky slogans that put a sexy spin on state pride met a quick end in Utah as the governor ordered the health department to stop distributing them.
In a bid to solidify his evangelical base, President Donald Trump on Thursday vowed to protect prayer in public schools and took new steps to give religious organizations easier access to federal programs.
When is a photograph of nude bodies artistic or titillating? A woman's exposed nipple a political statement or erotica?
Selfies on a "Women for Trump" bus tour through Iowa. Volunteer training at a "Black Voices for Trump" organizing session in Philadelphia. A vice presidential headliner at a "Latinos for Trump" event in Florida.
Director Sidney Lumet's underrated 1960 drama "The Fugitive Kind," starring Marlon Brando and adapted from a play written by Tennessee Williams, is now available on Blu-ray with a sturdy HD presentation by the Criterion Collection.

Starbucks has a point to prove: There's more to the company than selling $4 lattes to rich people.
The series was four years in the making, with filmmakers exploring 40 different countries and bringing back more than 2,200 hours of footage.
Many deductibles reset Jan. 1, forcing patients to pay thousands of dollars for care or prescriptions before most insurance coverage starts.

Fiat Chrysler is in talks with the Chinese company Foxconn to develop and manufacture battery-powered vehicles, the U.S.-Italian automaker said Friday.
Chip and Joanna Gaines' new Magnolia cable network will debut on Oct. 4, with a dozen shows currently in production.

An Air Canada flight bound for Australia diverted to Honolulu over the weekend because of a dead passenger.
The Boxers 2020 Calendar features twelve months of undie perfection that is sure to brighten every day of the new year.