Spring cleaning goes beyond the wardrobe. It's also time to update the grooming cabinet! Check out these seven curated picks.
CBD oil-infused gummy bears, lattes and other food, drinks and dietary supplements are selling quickly even though the U.S. government says they're illegal and local authorities have forced some retailers to pull products.
When is the last time that you put any considerable amount of thought into your product choices? Hair can make or break a first impression. If you've been feeling like you should up your hair game, consider these eight picks.
Kiehl's new "Made Better" brand platform, which launched last year, has partnered with John Legend to help spread the word about their sustainability efforts.
A new survey examining style trends determined that 66 percent of Americans have a cringeworthy look or fashion regret from their past that they can't bear to think about.
Makeup artist and YouTube star James Charles is no stranger to controversy and Twitter is dragging him over his latest video in which he uses the slang term "the house."
Complications and even deaths of several out-of-state women in recent years have spiked concerns over safety of the cosmetic procedures, prompting a bill before the Florida Legislature this year to impose stricter regulations.
No, you're not going to get high, but CBD grooming products are overtaking the skincare industry like weeds. Here are our top picks and why they're so effective.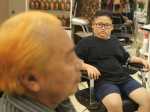 At a barbershop tucked away in a small Hanoi alley, Le Phuc Hai patiently waits for his hair dye to bleach his natural black into the color of the president of the United States.
Style and grooming influencer Alex Costa goes back to basics with tips on how to properly wash your face.