Nikole Goncalves offers her tips and tricks for healthy morning eating and exercise.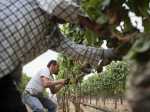 "Harvest Season," a new PBS documentary, examines the contributions of Mexican Americans in the wine industry of California's Napa Valley.
UNICO 20º87º's Superbia Summer returns for its second year of exceptional food, mixology and entertainment
A famous South American chef says he was stopped as he brought 40 piranhas in a duffel bag through Los Angeles International Airport.
Time Out Market Miami opens its doors to the public today, bringing a new culinary destination to Miami Beach.
The cruise buffet is getting a makeover, thanks to small ship line Windstar Cruises, who is partnering with the James Beard Foundation for a series of culinary cruises in 2020.
Maine's seaweed business has grown like a weed in recent years, with proponents touting it as both a "superfood" and an economic generator for the rural state — but the industry is now facing sticky new restrictions.
In recent years, you may have heard of tequila tastings and walked by a new mezcal bar — and wondered about the difference between the two. Here's the difference.
In Mexico's long and storied history, the Battle of Puebla is generally considered a fairly minor event. But its legacy lives on a century and a half later, particularly in the United States.
Burger King could soon be selling plant-based burgers nationwide.