Take advantage of fresh, seasonal produce for light and healthy recipes. With 11 ingredients you can make a variety of meals throughout the week including chia pudding, spring rolls, matcha lattes, macro bowls and vibrant spring salads.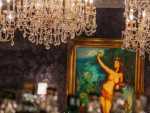 Large format drinks (sangria, margarita pitchers, etc.) have been trending since the invention of Sunday brunch, but just as much wow factor can be found on the plate these days.
Do you know where your snacks are? Four in ten Americans admit to being food thieves, according to new research.
Amazon and Walmart on Thursday kicked off a two-year government pilot program allowing low-income shoppers on government food assistance in New York to shop and pay for their groceries online for the first time.
Godiva is looking beyond its iconic gold gift box of chocolates. The Belgium confectioner is rolling out 2,000 cafes over the next six years.
Just in time for Easter eggs, a recent study revisited the issue about eating foods high in cholesterol. The findings are nuanced but suggest that those with high cholesterol may want to limit food with cholesterol.
Health officials say ground beef is the likely source of a food poisoning outbreak that has sickened more than 100 people in six states.
A New York City restaurant owner who touted her "clean" American-Chinese cuisine is renewing the long-simmering debate about stereotyping and cultural appropriation in the restaurant world.
Cocktail lovers rejoice! The Dead Rabbit, a mid-19th century style Irish/New York drinking saloon and two-time "World's Best Bar" winner has announced the release of "From Barley to Blarney, a Whiskey Lover's Guide to Ireland."
A Massachusetts-based company earlier this month cleared the last regulatory hurdle from the Food and Drug Administration to sell genetically engineered salmon in the U.S.