Do you want science-based information about diet but don't know whom or what to believe? You're not alone: More than 80 percent of Americans are befuddled.
A saloon in a New Mexico ghost town attracts regulars with diverse backgrounds and opinions with a promise to "have dialogue."
At the Tour de France, there are two types of eating. There's food for pure pleasure, consumed with gusto by those who follow the race. And there's food for fuel, gobbled hungrily on and off the saddle by the riders.
Atlantic City, NJ
A television network is inviting you to a dinner party with characters from "The Office" — aromatically speaking.
Plant-based diets have deep historical roots, and a longstanding connection with the political left.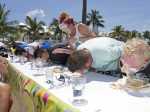 A Key West man has won the Mile-High Key Lime Pie Eatin' Contest on the subtropical island where the pie originated.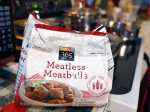 A federal lawsuit says Mississippi is violating free-speech rights by banning makers of plant-based foods from using terms such as "meatless meatballs" and "vegan bacon."
Eleven-time champion Joey Chestnut says he expects this year's Nathan's Hot Dog Eating Contest to be "a battle."
The Fourth of July often means hot dogs and hamburgers sizzling on an open fire, but Mayim Bialik is pleading with all those grill masters out there to not ignore their vegan guests.
Hot dog! Are you having an 'ole fashioned barbecue this Fourth of July? If not, consider one of these dog-licious spots serving up America's best bites on a bun.