The Boxers 2020 Calendar features twelve months of undie perfection that is sure to brighten every day of the new year.
If you're headed to New York City, EDGE has scoped out three hotspots for winter-themed cocktails. These festive lounges will provide a brief respite from the stress of the city.
The Admiral Duncan, a gay bar in Soho, London, received a postcard seemingly from the Phillippines, claiming "Old Compton Street was much better before you lot turned it into a gay street."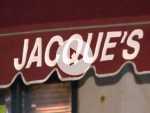 Boston police are investigating an alleged assault on three men which took place early Saturday morning outside Jacque's Cabaret, Boston's oldest gay bar.
Mauro Garza, the owner of popular gay night club Pegasus and Trump supporter, is running for a Republican Congressional seat in Texas.
"Orange is the New Black" star Lea DeLaria opens The Club, a new restaurant and performance venue in Provincetown.
A year ago, Washington, D.C. gay nightspot Town Danceboutique closed down. But now the club is preparing for a unique afterlife under a revised name and in an unexpected new locale: A building that used to be a Baptist church.
For the second time in a little over a month, a rainbow flag at the entrance to a New York City gay bar was set aflame.
In an update to the story of Alibi Lounge's Pride flags being burned, police have released new footage showing an individual lighting the flags on fire.
Pete Buttigieg drew a sold-out crowd to a fundraiser at an iconic West Hollywood gay bar, providing an intimate moment with the first Democratic White House contender who is a member of the LGBT community.