Basketball Star: Experience with False 'Gay' Claims Gave Me Empathy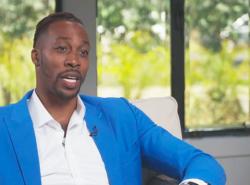 Memphis Grizzlies basketball player Dwight Howard says he's learned first-hand what it's like for LGBTQ people in America right now - even though, Howard says, he's not gay.
The athlete's exposure to anti-gay hatred was the result of a claim made by a man called Masin Elije, who took to Twitter to say that he had been romantically involved with Howard, reported the New York Post.
Elije has also sued Howard, alleging that the basketball player attempted to force him to sign a nondisclosure agreement that would muzzle him concerning their purported sexual relationship.
TMZ Sports reported that, according to Elije, Howard threatened violent reprisal if Elije didn't keep their supposed relationship a secret.
Howard has countersued Elije, the Post story noted, and though Howard maintains that he never met Elije and that the claims Elje has made about him are fabricated, Howard was forced to reckon with hatred aimed at him by legions of strangers who assumed the stories were true.
Howard described the experience on Fox Sports program "Fair Game," telling interviewer Kristine Leahy, "I saw all the hate, the pure hate, from people that I never met before just pile up... against me."
Howard went on to say that the experience "hurt," adding: "I sat at home and I was like, 'Man, I'll never want to come outside again."
The athlete described asking himself a question many LGBTQ people are left to ponder: "I'm like, 'Why?' "
But there was a light at the end of that dark tunnel. Howard told Leahy that the experience "really just set me free," giving him clarity on the issue of homophobia.
"People are afraid to be who they are," he said.
Howard went on to add, "I'm not gay. It's a lot of people who are, and they have to hide... They have to put on the mask every day. It's like, I don't want to wear no mask. I just want to be."
The Post reported that in response, Elije has doubled down, insisting that his account is true.
Watch the video clip in the tweet below.
"I'm not gay... It hurt at first to go through it. I sat at home and I was like 'I never want to come outside again.'" @DwightHoward spoke on the allegations that he was gay.

(????: @FairGameonFS1 | @KristineLeahy) pic.twitter.com/WcXz2WtOfY— Complex Sports (@ComplexSports) July 16, 2019
Kilian Melloy serves as EDGE Media Network's Assistant Arts Editor. He also reviews theater for WBUR. His professional memberships include the National Lesbian & Gay Journalists Association, the Boston Online Film Critics Association, The Gay and Lesbian Entertainment Critics Association, and the Boston Theater Critics Association's Elliot Norton Awards Committee.
Comments on Facebook