1 thru 10 of 6367 Stories
Special counsel Robert Mueller all but boldfaced this finding in his report on the Russia investigation: No exoneration for President Donald Trump on whether Trump criminally obstructed justice. That's not how Trump is spinning it.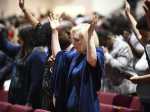 By now, most Democratic presidential candidates have polished their stump speeches. But when they're in South Carolina, they may need to add in a sermon.
President Donald Trump lashed out Friday at current and former aides who cooperated with special counsel Robert Mueller's investigation.
The legal threat to Trump that seemed so dangerous upon Mueller's appointment in May 2017 has waned.
Kentucky's lightning-rod governor also has run the risk of firing up Democratic voters heading into the November general election.
A Florida man unleashed threatening rants over the phone against three Democratic members of Congress, as he raged against gun control, illegal immigration, homosexuals, black people and Muslims, authorities said.
Openly gay 2020 Democratic hopeful Pete Buttigieg continued a busy week when he stopped by "Late Night with Seth Meyers."
Former Vice President Joe Biden is expected to announce he's running for president next week.
President Donald Trump and his attorney general are distorting the facts when it comes to special counsel Robert Mueller's report in the Russia investigation.
Making unverified claims about "unknown Middle Easterners" and prayer rugs found by ranchers, Trump drew eye rolls last year. Trump's new cries of alarm are again being met with skepticism, though the situation at the border has indeed deteriorated.
1 thru 10 of 6367 Stories