Alabama Senate Candidate Criticizes "Homosexual Activities" on TV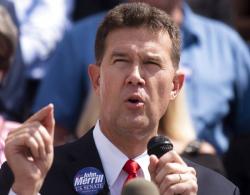 Alabama Senate candidate John Merrill has drawn criticism for his comments on "homosexual activities" in a recent campaign stump speech. He told prospective supporters that he thought those "activities" on television are a sign of a cultural decline, and also criticized the "socialist agenda that's being advanced by Alexandria Ocasio-Cortez, by Senator Chuck Schumer, and by Speaker Nancy Pelosi."

"The foundational principles which we have grown up as a nation are no more," Merrill said in an interview following the speech with AL.com. "They're too interested in the wife swap TV shows and the shows that are not morally uplifting. That's the problem."

Merrill is the current Secretary of State in Alabama and launched his campaign on a platform of supporting building Trump's wall, and on stemming illegal immigration.

"[T]hat's what we've allowed to happen," Merrill said to YellowHammer News. "How have we allowed it to happen? There are no more good TV shows on like 'Gunsmoke,' 'Bonanza,' 'The Virginian,' 'Andy Griffith,' 'I Love Lucy.` We don't have those shows anymore. We're too interested in homosexual activities. We're too interested in seeing how this family's finding a way to mess on this family or to see how people are trying to date on TV, or having wife-swapping on TV. That's what we watch. When we push back against that, and we quit allowing it to be in our homes — that's how those changes have occurred because we've allowed them to slowly but surely come into our lives."

He said there are no longer shows "that are based on biblical foundations. ...Shows that promote family and culture with a father, a mother and children based on biblical teachings and biblical principles on which our nation was founded."

"The secretary of state and former state House member is among four candidates vying for the Republican nomination to challenge Sen. Doug Jones," according to AL.com. "Merrill's Republican rivals include U.S. Rep. Bradley Byrne of Fairhope, former Auburn football coach Tommy Tuberville, and state Rep. Arnold Mooney, (R-Shelby County)."
Comments on Facebook