Gay Brit, 22, Beaten in the Street by Epithet-Hurling Homophobes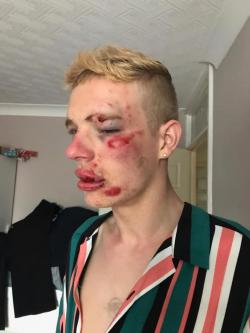 A gay British man has taken to social media to call out the group of thugs who he says brutally beat him and left him in the street after he confronted them about their having hurled anti-gay verbal abuse.
Ryan Williams, 22, described the July 13 attack on Facebook, saying that he and his friends were headed to a restaurant for an early morning snack after a night on the town when they were accosted by a group who yelled slurs at them.
Williams recounts, "There was a group of people nearby in the street and they started calling me and my friends gay." At that point, Williams relates, "We went over and told them it's not okay to say things like that."
The group evidently did not take kindly to being taken to task for their incivility; Williams alleges that as he was walking away, one of the men launched an attack from behind. Williams was knocked to the ground where, he says, he suffered kicks to the face.
The group — described as comprising three men and a woman — took to their heels after the savage attack. Williams was treated at a local hospital and the police were called.
UK newspaper the Mirror quoted the Lancashire police department as stating that officers "were called around 6:30 a.m. on Saturday following reports of an assault in Friargate, Preston," a community in Lancashire.
The police account adds, "The victim was knocked unconscious suffering facial injuries... The assault is being investigated as a hate crime and enquiries are ongoing."
The incident follows another vicious beating in England that took place in the South Yorkshire town of Rotherham a few weeks ago. As reported at EDGE at the time, 17-year-old Jack Roberts was brutally beaten by a gang of up to ten people after he confronted them about their abusive and homophobic language.
Roberts, who is straight, became the target of the group's ire. Reports say one of the assailants who beat him used brass knuckles. Roberts was treated at a local hospital; his mother posted photos of his injuries at Facebook and asked anyone who might have cell phone video of the crime to step forward.
Williams posted photos of himself at the social media platform, sharing images that clearly showed his battered face.
"I never thought in my life that I would get beaten up for being GAY!" Williams posted. He goes on to add: "I seriously can not believe that a homophobic attack happens! Which it does and it's wrong!"
The post goes on to say, "Stand strong and love yourself, this isn't gonna stop me from being fabulous! BEING GAY IS OK!"
A recent article in the UK newspaper the Guardian reported that hate crimes targeting gays and lesbians have doubled in England and Wales over the last five years. Bias attacks targeting trans people have tripled, the newspaper reported.
Those trends are also present in the United States, where anti-LGBTQ hate crimes have soared since the 2016 elections. A recent study showed that areas, where Trump rallies took place subsequently, experienced an increase of more than 200% in anti-LGBTQ hate crimes.
Trans Americans of color are especially vulnerable to lethal violence. The Human Rights Campaign, which monitors anti-trans violence, tracked 26 cases of deadly violence directed at trans victims in 2018. So far this year, there have been eleven known murders of trans people, according to the HRC.
Kilian Melloy serves as EDGE Media Network's Assistant Arts Editor. He also reviews theater for WBUR. His professional memberships include the National Lesbian & Gay Journalists Association, the Boston Online Film Critics Association, The Gay and Lesbian Entertainment Critics Association, and the Boston Theater Critics Association's Elliot Norton Awards Committee.
Comments on Facebook