Minneapolis Male Massage Therapist Charged with Sexual Assault of 2 Men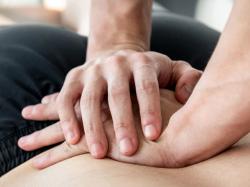 A male massage therapist working at a Minneapolis spa was fired by the business and charged by the authorities with sexual assault when a client filed a complaint in November alleging that the therapist touched him inappropriately during a massage session, reports local newspaper the Star Tribune.

The complaint was filed Nob. 2 against Benjamin A. Lamb, a 65-year-old masseur who had been employed for six years at Men's Spa Salon, reported the .

That complaint led police to the discovery of an earlier complaint, from 2016, in which another man had leveled similar accusations. That complaint seemingly never led to charges being filed, the article noted.

Lamb told police that he had similarly touched 50 male clients, though it was not clear from reports where this may have taken place. Lamb reportedly said that he had received the impression that they wanted sexual contact during the sessions.

Media accounts cited court documents that said Lamb "stated that he receives a 'perception' from a client and proceeds to touch them in their private areas because he thought they would enjoy it."

However, the court documents added, "The defendant admitted that some men probably did not want to be fondled."

Media reports also cited a Yelp review from 2016 in which a third individual wrote that the therapist he had seen at the spa was "super creepy."

The review alleges that "while rubbing [my] back with one hand, more than once he tried to reach very close to inappropriate areas with the other. I was very uncomfortable and quite shocked honestly."

The spa fired Lamb on Jan. 2 of this year. A lawyer said that the spa "certainly does not condone or tolerate this kind of behavior," reports noted.
Kilian Melloy serves as EDGE Media Network's Assistant Arts Editor. He also reviews theater for WBUR. His professional memberships include the National Lesbian & Gay Journalists Association, the Boston Online Film Critics Association, The Gay and Lesbian Entertainment Critics Association, and the Boston Theater Critics Association's Elliot Norton Awards Committee.
Comments on Facebook