Gay Atlantic City: The Latest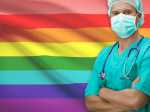 One researcher says medical providers often have trepidation about working with trans people, even if they recognize it is in the best interests of their patients to do so.
A 26-foot statue of Marilyn Monroe that has been placed outside a Palm Springs art museum in under fire. Critics say that the statue, a recreation of an iconic Monroe image from "The Seven Year Itch," is mooning the museum visitors.
Tennessee Gov. Bill Lee signed legislation that puts public schools and their districts at risk of losing civil lawsuits if they let transgender students or employees use multi-person bathrooms or locker rooms that do not reflect their gender at birth.
Many early depictions of HIV/AIDS focus on the experience of gay communities in the U.S. or UK. However, HIV/AIDS has deeply affected, and continues to affect, many different communities in Canada.
New research shows more than half of LGBTQ youth report having been bullied at school, with 58% of those who are bullied saying they don't bother to report to teachers because they often do nothing — even when they see it happening.
Nick Jonas has been hospitalized after suffering an injury late Saturday night while filming a new mystery show, TMZ has learned.
Dominique Jackson, best known for her role as Electra on "Pose," is heading to the world of...real estate!
Enola Holmes is headed back to Netflix for a sequel to the 2020 film of the same name — and reports say that this time, her famed big brother might be depicted as bisexual.
The family of Roxsana Hernández — a Honduran transgender woman who died while in ICE custody, and may have been beaten while handcuffed — has requested the U.S. government be added to their lawsuit.
Andrea Meza of Mexico has been crowned Miss Universe.
British vacationers began arriving in large numbers in southern Portugal on Monday for the first time in more than a year, after governments in the two countries eased their COVID-19 pandemic travel restrictions.
So you want to rule the world? In the new Hulu original animated series, even a supervillain can get the rug pulled out from under him when a large conglomerate takes over his evil organization.
Florida's major theme parks are adjusting their face mask policies after the federal government loosened its recommendations as more people get vaccinated for the coronavirus.
Trying to figure out the sexuality of Pokémon may not be high on most people's agenda, but Boston-based comedian Connor Diddle is using his TikTok account to tell the world which characters of the popular Japanese game franchise are LGBTQ.
Lemonade has turned wishful thinking into a reality with a technology-driven business model that makes acquiring various insurance types as easy as a few clicks, as well as a robust social action plan.
The launch of Ford's Bronco, its highly anticipated Jeep Wrangler-like SUV, won't likely happen until late this year. But there is already a Bronco-badged alternative at dealer lots.
Janet Jackson's ensembles she wore in the "Scream" music video opposite of her brother Michael Jackson are among the items up for bid in a three-day auction.
The head of the Centers for Disease Control and Prevention on Sunday defended the decision to ease mask-wearing guidance for fully vaccinated people, stressing that increasing political pressure had nothing to do with the abrupt shift in guidelines.
Nearly seven in 10 Americans are yearning to escape from the people they've been quarantining with by taking a much-deserved road trip this summer, according to new research.
Their break-up may not have gotten the headlines that J-Lo and Arod may have gotten recently, but gay Manhattan was abuzz this week about the break-up of LGBTQ influencer Jack Mackenroth and adult star Dolf Dietrich that went very public this past weekend