Gay Atlantic City: The Latest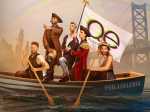 Saudi Arabia has allowed Netflix to stream LGBTQ-centric series "Queer Eye" and "Orange is the New Black" over what Netflix Co-CEO Reed Hastings as a "troubling compromise."
Glory holes are celebrated in João Dall'Stella's cheeky 3-minute video "Stalls." EDGE spoke to the filmmaker about the short.
Convicted on hate crimes charges, a Miami man has been sentenced to two years in prison for assaulting and yelling homophobic slurs at two gay men.
More than 650,000 YouTube followers tune into Azlia Williams' workout videos, and with good reason. She's back at the gym (wearing a mask), this time concentrating on lower body strengthening and toning.
While much isn't known about the storyline of the upcoming and highly anticipated "The Matrix 4," actor Keanu Reeves did provides a few hints this week on BBC's "The One Show."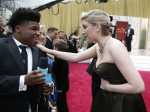 Jerry Harris, the star of the Netflix documentary series "Cheer," was arrested Thursday on felony charges of production of child pornography.
A cartoon posted to promote children attending Sunday School featuring a Jesus right out of "Queer Eye" was posted, then deleted from the Church of Iceland's Facebook page.
In Ryan Murphy's new Netflix series "Ratched," the producer attempts to give the twisted nurse from "One Flew Over the Cuckoo's Nest," here played by Sarah Paulson, an origin story but serves up mostly over-the-top drama.
After her VMAs spectacular, Lady Gaga might be readying a new single off her latest album "Chromatica."
Two of television's most popular queer shows — "Queer Eye" and "RuPaul's Drag Race" have scored this week at the Creative Arts Emmy Awards.
Three-time Grand Slam victor and former world champion tennis player Andy Murray has chimed in with his agreement that an Australian arena should no longer be named for tennis legend Margaret Court.
This queer horror film is a passable paranoid thriller in the realm of Roman Polanski, with obvious nods to the Jordan Peele's "Get Out" and Alfred Hitchcock's "Rear Window."
A federal agency is suing Kroger's grocery chain, claiming that the company discriminated against the religious convictions of two employees who refused to wear aprons embroidered with "gay" hearts.
A support system, advocacy portal and resource guide, Solace empowers transgender individuals through their transition through a tech-savvy and easy-to-use app.

From Broadway to Hollywood, many actors, directors, backstage workers, musicians and others in the performing arts face similar coverage suspensions.
U.S. consumer prices rose 0.4% in August as used car prices surged by the largest amount in 51 years, the Labor Department reported Friday.
We've sourced seven looks for every budget, from denim and leather to a classic bomber jacket that will never goes out of style.
Cholesterol can be confusing. But understanding it could help you live a longer, healthier life.
Nearly six in 10 Americans have a new appreciation of nature during quarantine, according to new research.
Adult star Michael Boston and his identical twin tear up social media.