Gay Atlantic City: The Latest
Los Angeles' police union Friday labeled Mayor Garcetti "unstable" and accused him of political pandering after he referred to "killers" in remarks about proposed spending changes.
The Republican Party is facing a reckoning over some of its most divisive candidates. So far the results are mixed, and that's dicey for the GOP as the country hurtles toward November elections.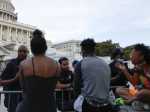 Congressional Democrats, powered by the Congressional Black Caucus, are preparing a sweeping package of police reforms as pressure builds on the federal government to respond to the death of George Floyd.
Joe Biden has formally clinched the Democratic presidential nomination, setting him up for a challenge to President Trump that will play out against the backdrop of a pandemic, economic collapse and civil unrest.
Two Republican-led Senate committees have launched election-year investigations into the Justice Department's Russia probe, resurrecting the issue at the urging of President Donald Trump.
Twitter has blown up with allegations that a "prominent" GOP senator has been bolting the closet door shut by day with an anti-LGBTQ record... but hiring male sex workers in his spare time.
Family of origin. Family of choice. You decide. Father's Day is June 21, and it's a time to celebrate the favorite man (or men!) in your life.
A long-time HIV survivor emphasizes the steps the federal government needs to take in order to end the HIV epidemic.
Prosecutors investigated Friday after a video captured a police officer in Buffalo shoving a 75-year-old man who then falls and cracks his head, a confrontation that resulted in the suspension of two officers.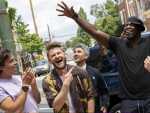 "Queer Eye" returns for its fifth season on Netflix Friday, solidifying itself as some of the best comfort-TV around.
William Barr's Justice Department has targeted gay and lesbian Americans in an adoption rights case that pits same-sex families against claims of religious freedoms to discriminate against sexual minorities.
Francis Lee completed his followup feature, "Ammonite," just before the COVID-19 crisis struck. Now, with the film being selected for Cannes, he's speaking about the movie, a love story about two 19th Century women.
With the deadline for a possible extension of the Brexit transition period looming, a fourth round of talks on a future trade deal between the European Union and the U.K. ended Friday without result.
During any disease outbreak, epidemiologists want to quickly figure out whether superspreaders are part of the picture. Their existence can accelerate the rate of new infections or substantially expand the geographic distribution of the disease.
Plans sometimes have exclusions for coverage related to "illegal acts" that could leave people on the hook for at least part of their medical costs. But health policy experts said it's unclear how common these clauses are or when they're used.
A new study says that while autonomous vehicle technology has great promise to reduce crashes, it may not be able to prevent all mishaps caused by human error.
Do we need a National Doughnut Day? No. But are we glad that it exists? Absolutely. Here are six places to take a bite out of our new favorite annual celebration.
Behavioral health care workers in areas hit hard by COVID-19 are overburdened. Mobile crisis teams, residential programs and call centers, especially in pandemic hot spots, have had to reduce or close services.

We've made a list of saunas across the world that are worth visiting and marking as part of your bucket list.
An adult performer apparently attempted suicide after his racist comments led to content-sharing sites cancelling his account and a social media backlash.