Watch: In Vogue Interview, Troye Sivan Says He's 'Uncomfortable' Being a Gay Icon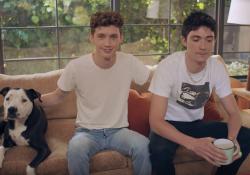 Troye Sivan is the latest celeb to participate in Vogue's 73 Questions video interview. During his chat, the out pop star revealed a number of things, including that he feels "uncomfortable" being called a gay icon.

He also talks about his music and touring, his celebrity crush and much more. His boyfriend Jacob Bixenman also joins in on the convo to reveal his crush. Sivan said fellow pop star Shawn Mendes while Bixenman said his crush is Harry Styles.

Elsewhere, Sivan said that despite writing queer songs and being an LGBTQ activist, he doesn't particularly like being called a "gay icon."

"I just, from experience, have seen that the LGBT community is so unbelievably diverse and looks like so many people," Sivan told Vogue. "To kind of be picked as, like, one of the faces of the community. It just made me really uncomfortable, and felt weird and scary."

Sivan released his sophomore album "Bloom" last year and released a single with Lauv called "I'm So Tired..." in January.

Watch the singer's Vogue interview below.
Comments on Facebook