Watch: 'Riverdale' Actor K.J. Apa Stars in Trailer for Christian Film 'I Still Believe'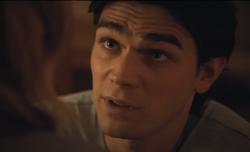 Most people may know New Zealand actor K.J. Apa as Archie Andrew in the moody and sexy teen series "Riverdale" but the young celeb has found a new role: Starring in the new Christian film "I Still Believe."

Directed by the Erwin Brothers, Apa plays Jeremy Camp, the real-life Christian music singer best known for his Grammy nominated 2010 album "Speaking Louder Than Before." "I Still Believe" is based on Camp's memoir of the same name and follows his romance with his first wife, Melissa, whom he married in October 2000 despite knowing she was dying. On their honeymoon, the couple learned her cancer had spread and she later died in 2001.

"For the People" star Britt Robertson plays Melissa and Gary Sinise and Shania Twain also appear in the film.

"I Still Believe" hits theaters on March 20, 2020. Watch the trailer below.
Comments on Facebook