Live Virtual Gathering Will Support Orlando LGBTQ Community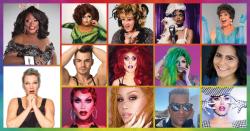 Still sheltering from COVID-19? You don't have to go it alone... and you can socially distance with Pride, along with area celebs, on April 25 at 8 p.m. EST.

Come Out with Pride Orlando is putting on another "Stay In with Pride" event this Saturday, organizers advised in an email.

"Stay In again this Saturday at 8 pm!" the email invited. "We're featuring top local talent including Ginger Minj from 'RuPaul's Drag Race,' Tymisha Harris, Miss Sammy, Milan D'Marco, Victoria Elizabeth Black, Opulence Black, MrMs Adrien, Billy Mick, Cara Cavalli and plenty more."

The email went on to add, "The gathering aims to entertain everyone staying at home while also raising awareness and support for Central Florida's LGBTQ+ individuals and non-profits."

Organizers offered more information:

Individuals who are either able to donate or are in need of support are encouraged to visit the Central Florida LGBTQ+ Relief Fund launched by Contigo Fund in partnership with the One Orlando Alliance and the LGBT+ Center.

Viewers can watch by joining the live broadcasts on our Facebook and YouTube Channels (Please Like us and Subscribe!). The incredible Blue Star and Darcel Stevens will emcee the event, and local club DJ Scott Robert will add a virtual dance party guaranteed to make viewers at home #KeepDancingOrlando.

Added the email:

"Part of Come Out With Pride's mission is to unite people to support our community. While the effects of COVID-19 have made it impossible to be together in person, we believe it's more vital than ever to congregate — even virtually — to help us get through this crisis."

To learn more and to join the event, click here.
Comments on Facebook