Top Story
Twitter has blown up with allegations that a "prominent" GOP senator has been bolting the closet door shut by day with an anti-LGBTQ record... but hiring male sex workers...
1 thru 10 of 53256 Stories
A Maryland man charged with assaulting three teenagers after a video showed him grabbing a protest flyer from one of teens is apologizing.
Those charged with offenses related to looting and property destruction — such as arson, burglary and theft — often had past criminal records. They were overwhelmingly local residents taking advantage of the chaos.
Two Buffalo police officers were charged with assault Saturday, prosecutors said, after a video showed them shoving a 75-year-old protester in recent demonstrations over the death of George Floyd.
Massive demonstrations against racism and police brutality filled some of the nation's cityscapes Saturday, with tens of thousands of people marching peacefully in scenes that were more often festive than tense.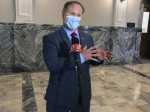 A freshman Kansas congressman who has toed the conservative line and steadfastly defended President Donald Trump nevertheless is battling accusations that he's an impostor in a tough Republican primary race.
Prosecutors know they must bring the right charges underpinned by sound legal logic if they hope to convict a Minnesota officer in Floyd's May 25 death.
Another day of protests brought more examples of New York City officials downplaying or denying the police department's rough treatment of protesters — even when it was caught on video.
President Donald Trump on Friday laced into Maine's Democratic governor for not moving quickly enough to reopen the state's economy. She corrected the record.
Three promoted a Facebook post suggesting George Floyd's death was staged. Another shared a Martin Luther King Jr. quote over a picture of a banana. All of them are local GOP leaders in Texas.
A black reporter from the Pittsburgh Post-Gazette was told she could not cover the city's protests over the death of George Floyd because of a tweet. That move unleashed a tidal wave of support.
1 thru 10 of 53256 Stories