Watch: Jimmy Fallon Enlists Mayor Pete for 'Slow Jam the News'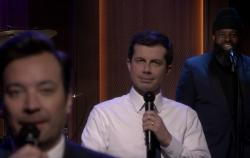 Following in the footsteps of President Barack Obama, Jimmy Fallon enlisted Mayor Pete Buttigieg for his famous "Tonight Show" segment, "Slow Jam the News."

On the Monday night episode, the 2020 Democratic presidential hopeful appeared on the show for the segment, which started back in 2012, to talk about political issues while the "Tonight Show" house band, The Roots, play sexy and smooth music and Fallon chimes in to echo Buttigieg's key points, "Oh yeah, Pete Buttigieg wants to satisfy all your needs," he says at one point.

Later on, things erupt into a Buttigieg remix of Bubba Sparxxx's "Mrs. New Booty." Yup.

Watch the hilarious clip below.
Comments on Facebook