Before Homosexuals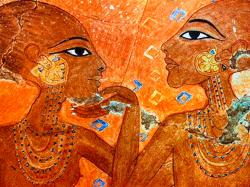 "Before Homosexuals" is the prequel to filmmaker John Scagliotti's Emmy Award-winning "Before Stonewall," which, together with "After Stonewall," completes the trilogy.

Scagliotti explains that "Before Stonewall" was made 35 years ago, and in that documentary, they only went back as far as 1929 because nothing predating this was readily available. He has certainly made up for any lack of historical content, as in a tight 90 minutes he trots all around Europe and manages to squeeze in several centuries of history that clearly show that same-sex relations are as old as time itself.

More historical evidence is now available as contemporary attitudes to homosexuality change. One example: The 1st Century Warren Cup, which depicts two male sex acts. The artifact was bought by the British Museum in 1999 (for a cool £1.8 million), but when it was offered to the Museum back in the 1950s, it was deemed far too hot to handle.

With the help of a whole slew of experts, Scagliotti uncovers a trove of fascinating facts about all these and more: Michelangelo and his much younger lover Tommaso dei Cavalieri; Achilles' lover Patroclus, who took his place in battle and died for him; Alexander the Great, who married three times but the love of his life was his General Hephaestion; and, centuries later, Oscar Wilde, whose openness about his love of Boise landed him in prison for three years of hard labor.

At the beginning of the documentary, Scagliotti insists on warning us that some of the material he found is pretty ugly. It is, however, part of the story - even though Scagliotti finds himself drawn more to the beauty of our past - its heroism and struggle to survive and even flourish. Most important, though, is the film's insistence that we will be remembered.

With this being the 50th Anniversary of the Stonewall Riots, it is the perfect time for us to both acknowledge and celebrate our past, as it has helped shaped who we all our today. Scagliotti has crammed a lot of history into his eye-opening film - so much so, we will need to go back and re-watch so that more of it can sink in.
Roger Walker-Dack, a passionate cinephile, is a freelance writer, critic and broadcaster and the author/editor of three blogs. He divides his time between Miami Beach and Provincetown.
Comments on Facebook