Review: 'The Undoing' Gives Us More of What We Love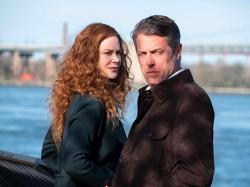 Stop us if you have heard this one before: Nicole Kidman plays a wronged wife caught up in a murder mystery involving her husband, in a new limited series based on a bestselling book. It's also produced by David E. Kelley. No, this isn't the rumored third season of "Big Little Lies." It's a new show, also on HBO, called "The Undoing" that leans into a twisty plot and whodunit mystery that will leave audiences salivating until the next episode premieres.

It's hard not to compare "The Undoing" to the previous collaboration between Kidman and Kelley. Both are adaptations of bestselling novels about mothers in wealthy circles and revolve around a murder mystery. You wouldn't be far off in thinking of this new limited series as "Big Little Lies: East Coast." Unlike the slow burn of "BLL," "The Undoing" jumps right in and doesn't let up. Also, the East Coast girls don't rally around Kidman like the ride-or-die Monterey Five.

Based on the novel "You Should Have Known," by Jean Hanff Korelitz, "The Undoing" centers on Grace Fraser, an old-money Manhattanite working as a therapist who seems to be living a dream life. Her husband, Jonathan, is a respected pediatric oncologist, and her son is the type of perfect child that we only ever see in movies and never in real life. That perfect life, however, comes crashing down when a mother at her son's school is found murdered a few days after inserting herself into Grace's life. Even worse, Jonathan is the only suspect.

It should be noted that "The Undoing" gives us something we never knew we needed: Kidman and Hugh Grant playing a happily married couple. They are the very definition of relationship goals, and their easy chemistry helps to make for an easy entry into the six-episode series. Even when the couple is coming apart at the seams, the actors still have a rapport onscreen that is hard to turn away from. If these two don't reunite in a happier project in the future, then Hollywood has failed us all.

HBO released the first five episodes for review, and director Susanne Bier has crafted each to work as a crescendo of twists and turns throughout the hourlong running time. It all leads to the kind of "Oh my god" cliffhangers that viewers were used to seeing in the Shonda Rimes shows at their peak. Surely, having to wait a week between episodes will leave many viewers anxious to find out what happens next.

Bier, who is most known for her work on the show "The Night Manager" and directing "Birdbox," makes sure to keep the focus on the task at hand. With "The Undoing," Bier never veers off onto unnecessary tangents or shows her hand before she is ready. Using most of the first episode to set the stage for things to come, Bier illustrates the dichotomy between Grace and the other mothers, even setting up an uneasy relationship with the victim.

"The Undoing" also has a stacked supporting cast, including Janel Moloney and Donald Sutherland. Lily Rabe steals every scene she is in, though. She is the type of best friend that we used to see in the '90s thrillers like "The Hand That Rocks the Cradle." She's loyal, fun, usually the levelheaded voice of reason, and you can't take your eyes off her. The only downside to Rabe's role is that, as the supportive best friend, she's relegated to being seen more than heard at times — especially once the murder trial begins.

With a pace that keeps the twists and turns coming regularly, "The Undoing" will keep you invested. While the show is happy to keep most things on the surface level, its willingness to lean in keeps you from feeling the need to know every last element of the characters instead of the current snapshot that they are currently living. It's a well-cast, easy to watch thriller that will more than keep you satisfied in case that next season of "Big Little Lies" never materializes.

"The Undoing" premieres on HBO on October 25, 2020.
Comments on Facebook