Where Do We Go From Here?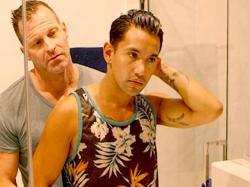 Writer-director Anthony Meindl puts a human face — a group of human faces, actually — on the epidemic of gun violence that plagues the United States with "Where Do We Go From Here."

The film is set in three different times and places: Tampa, Florida, in June, 2016; Paris, France, in November, 2015; and Binghamton, New York, in April, 2009. Those with a memory for dates will know where this film's three storylines are headed, but there are surprises along the way, and surprises once we get there.

In one storyline — titled "Amor" — a generationally mixed gay couple, Ricky (Meindl) and Raul (Matt Pascua) struggle with different needs and expectations. Ricky, who is nearly 50, wants Raul home and living in settled domesticity; he regards the years he spent at clubs as wasted time. But Raul, his Millennial boyfriend, feels that he, too, has wasted time — namely, his teenage years when he was denied the freedom to be himself and explore sexuality and relationships in his own way — and he needs to make up for it while he's still young.

The second storyline, "Uncertainty," follows Elena (Olivia Taylor Dudley), who at first seems to be a stressed-out single mother. It eventually becomes clear that she's not single; she's married to a habitually drunk and abusive man who, following a layoff from a factory, doesn't have the wherewithal to get off his "defeated ass," as Elena puts it, and get his life — and that of his family — back on track. Elena struggles to keep the family going, tending to their young son and teaching ESL at an immigration center... another point of resentful contention between herself and her xenophobic, racist husband.

"Le Temps" is the title of the third storyline. It means "Time" in English, and while Adele (Camille De Pazzis) and Mathilde (Justine Wachsberger), two married women having an affair with one another, don't know it yet, their time may be running out. Adele, free-spirited and full of life, spends too much of her time trying to get husband François (Nicolas Berger-Vachon) to loosen up and have some fun — the more transgressive, the better. Mathilde's husband, Daniel (Raphael Desprez) seems to get it, more or less, and at one point Adele even gets the guys to dance together while she looks on approvingly. The moment is short-lived — but that is the point. All moments pass away too quickly, as do those who experience them. Making those moments count is what these three parallel stories have in common.

The film makes its point with a mixture of drama, humor, and shock. A documentary epilogue listing mass shootings since 2013 feels tacked-on and too much. We get it. We very much do get it. All that's needed to drive the point home is the news clip of Barack Obama, during his presidency, delivering a speech in which he notes that "thoughts and prayers are not enough."

And to think: Those now seem like relatively sane and normal times.
Kilian Melloy serves as EDGE Media Network's Assistant Arts Editor. He also reviews theater for WBUR. His professional memberships include the National Lesbian & Gay Journalists Association, the Boston Online Film Critics Association, The Gay and Lesbian Entertainment Critics Association, and the Boston Theater Critics Association's Elliot Norton Awards Committee.
Comments on Facebook