Review: 'Rolling Thunder Review: A Bob Dylan Story' is Superlative on Blu-ray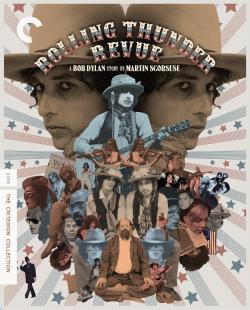 It's a great bit of irony that Martin Scorsese's "Rolling Thunder Revue" was released on Netflix in 2019, as it emblazoned the surrealistic experience of living through post-Vietnam America with a dash of anti-establishment attitude. We're living in an age where Netflix reigns king in the streaming space, so a documentary this slippery in categorization being unleashed into this space is hilarious. It may be made by one of the greatest filmmakers of all time, but it's anchored and led by a jokester that must be chuckling at the prospect of his work being presented on a streaming service.

"Rolling Thunder Revue: A Bob Dylan Story by Martin Scorsese" has arrived on Blu-ray from the Criterion Collection, bookended by some great special features and an incredible collection of essays that enriches the experience of watching a film this unique. Scorsese assembled the film from a work print of footage shot during the Rolling Thunder Revue tour, which should give you a good idea of how much restoration work was needed. Add in a 5.1 surround sound audio track that makes the film feel just as intimate as the concerts did back in the day, and you have another A-grade release from Criterion.

Bob Dylan and a swath of his talented cronies, including Joan Baez, Allen Ginsberg, and Joni Mitchell, took off for a cross-country tour in 1975 called Rolling Thunder Revue. The tour had many musicians and artists drifting in and out of the tour depending on the location, and it injected a kind of spiritualism into the youth that was lost in the wake of the Vietnam War. While the tour was initially coined to commemorate the bicentennial, it broke off in so many creative ways to deepen, enrich, and mystify the American ID even more.

Bob Dylan has mentioned time and again that he doesn't want his songs referred to as "protest songs," although much of his work has spurred protest. Maybe protest was too strong of a term for a man who wanted to understand and poke and prod at America's soul. Scorsese naturally runs with Dylan's defiance and humor by making a film that's neither completely a documentary or fictional narrative. The filming of these events doesn't bring us any closer to the truth of the Rolling Thunder Revue, but it sure as hell enriches by emboldening Dylan and company's poetry.

Once again, the Criterion Collection brings a Scorsese film to Blu-ray with the presentation and special features it so rightfully deserves. I'd pick this up immediately if you're interested.

Special features include:

• New interviews with Scorsese, editor David Tedeschi, and writer Larry "Ratso" Sloman
• Restored footage of never-before-seen Rolling Thunder Revue performances of "Tonight I'll Be Staying Here with You" and "Romance in Durango," and of a never-before-seen cut of "Tangled Up in Blue"
• An essay by novelist Dana Spiotta and writing from the Rolling Thunder Revue tour by author Sam Shepard and poets Allen Ginsberg and Anne Waldman


"Rolling Thunder Revue: A Bob Dylan Story by Martin Scorsese" is now available on Blu-ray from the Criterion Collection.
Comments on Facebook