Review: New 4K Restoration of 'Claudine' an Incredible Release from Criterion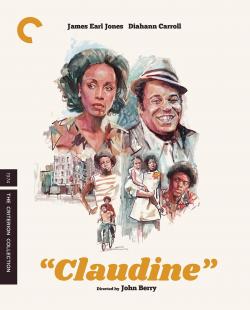 Especially given the latest inclusion and representation standards announced by the Academy of Motion Picture Arts and Sciences, it's an interesting time to look back and see the films that the Academy overlooked, or, worse, chose as an attempt to seem more dedicated to inclusion. "Claudine," truly is one of the great works about the dehumanization of Black people by the welfare system and, yes, a genuinely touching and heart-rending romantic drama. It has the wit and verve that definitely pissed off Oscar voters in 1974, as its representation of Black life is a lot more realistic, nuanced, vulgar, and layered than normal awards fare of that era. As a matter of fact, it sidesteps prestige trappings at every turn.

The new 4K restoration of "Claudine" from the original 35mm camera negative offers deep filmic textures and vibrant colors, and the new Blu-ray from the Criterion Collection gives it the proper presentation with a maxed-out bitrate. Add in a bevy of special features, including an in-depth audio interview with Diahann Carroll from a 1974 AFI Harold Lloyd Master Seminar, and you have another winning release of a film that deserves your attention.

Claudine (Carroll) is a single mother of six kids living in Harlem, whose budding relationship with a towering garbage man named Rupert Marshall (James Earl Jones) faces the stressing realities of an oppressive society. Their woes may be underscored by the restrictions put onto Black people in the 1970s (and today, unfortunately), but "Claudine" offer an empathetic and bittersweet look at the Black working class struggle that other films don't.

Among the many incredible things about "Claudine" is the score by Curtis Mayfield that's performed by Gladys Knight and the Pips. The opening song of the film is chock full of innuendo, and is actually pretty blatant about sex, which is something frequently stripped from Black stories in popular Hollywood cinema, especially films made during the 1970s. The sunny soundtrack is one of the great number of reasons why the film soars in a soulful way. To director John Barry, Gladys Knight's voice is used like an instrument, but it's only used to embolden what's already on screen. The goal here is to find the delicate balance between Black reality and giving Black romance the nuanced representation that's so often missing. "Claudine" hits that note, and sings it loud.

The terrific audio interview with Diahann Carroll alone makes this release worth picking up, as it has Carroll recounting her experience in replacing Diana Sands as the main character in the film. There's also a great conversation between filmmaker Robert Townsend and Ashley Clark that has Townsend breaking down the many reasons why he loves "Claudine," but also applying a filmmaker's technical point of view to it. This release comes highly recommended. Other special features include:

• Audio commentary from 2003 featuring actors Diahann Carroll, James Earl Jones and Lawrence Hilton-Jacobs; filmmaker George Tillman Jr.; and Dan Pine, the son of screenwriters Lester Pine and Tina Pine
• New interview with film critic Imogen Sara Smith on director John Barry
• Booklet essay by critic Danielle A. Jackson


"Claudine" is out on Blu-ray from the Criterion Collection on October 13.
Comments on Facebook