Review: 'The Groundstar Conspiracy' is a Minor Footnote to Michael Sarrazin's Fascinating, if Frustrating, Filmography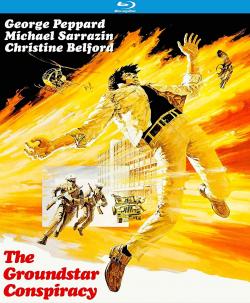 I've been a Michael Sarrazin fan since I was a kid. I even wrote a play (that ran off-Broadway in 2000) titled "Michael's #1 Fan," about a young man growing up in a small town, obsessed with Sarrazin. His performance in the seminal "The Shoot Horses, Don't They?," opposite Jane Fonda, proved he was a gifted actor. I often wonder what would have happened had his agent not screwed up the offer that went out for him to star in "Midnight Cowboy." Would he have enjoyed a career similar to Jon Voight's? (And, "Coming Home" notwithstanding, did we really need Jon Voight?) So, I have seen most of his film work. "The Groundstar Conspiracy" is an exception, since it was near impossible to find on any format. Kino Lorber has corrected that with a terrific Blu-ray release.
The movie, based on the novel "The Alien," by L.P. Davis, was made in 1972 when paranoid political thrillers were returning to the cine-fold, after a decent run in the early 1960s ("The Manchurian Candidate" being the most controversial example). The film opens with a rather dramatic explosion at The Groundstar Research Complex, a mysterious lab run by the government (uh-oh), where a bunch of scientists are killed. The sometimes-convoluted plot centers on John David Welles (Michael Sarrazin), the only survivor of the incident, who is the likely person responsible for the carnage but has no memory of who he is.
Enter Tuxan (George Peppard), sent in by the government, to get to the bottom of things. Has Welles' memory been erased or is he lying? Tuxan's elaborate plan to find out is the crux of the narrative.
Director Lamont Johnson ("You'll Like My Mother," "Lipstick") keeps the pace fairly breakneck, probably so we don't stop and ponder if any of it makes sense. The script is credited to Leslie P. Davies and Douglas Heyes.
Peppard hams it up to the hilt, which is fun to watch. Sarrazin is more than admirable, in a tricky role where he must keep things ambiguous while eliciting empathy from the viewer, which he succeeds in doing. Christine Belford (who?) is fairly wooden in a role that is negligible.
"Groundstar" has a cheesy TV crime movie feel about it. As a conspiracy flick, it pales in comparison to, say, Alan J. Pakula's gripping "The Parallax View" or Sydney Pollack's riveting "3 Days of the Condor," both made a few years later. But it is still entertaining, especially when Sarrazin is onscreen.
The HD visual transfer is excellent, showing off the gorgeous CinemaScope camerawork of Michael Reed ("On Her Majesty's Secret Service"). There are occasional issues with muddled sound, but otherwise the DTS-HD Master 2.0 track is pretty crisp.
The only Special Feature of note (besides the original trailer) is an Audio Commentary track by film historian/filmmaker Daniel Kremer and film critic Scout Tafoya. The conversation is chatty and informative. They manage to delve into political thrillers of the time, as well as Sarrazin and his career.
Sarrazin would go on to make good impressions in films like "For Pete's Sake," opposite Barbra Streisand, and "The Reincarnation of Peter Proud," with Margot Kidder, but would never be able to quite fit the prominent leading man type he was being groomed for. His credits (and lack thereof) in the '80s and '90s show a limited understanding of his talents. But anyone who manages to catch "They Shoot Horses, Don't They?" or "The Pursuit of Happiness" or "Sometimes a Great Notion" (all made before "Groundstar") will see the promise on display, and mourn what could have been.
"The Groundstar Conspiracy" is a minor footnote to Sarrazin's fascinating, if frustrating, filmography.

"The Groundstar Conspiracy" is out now on BLU from Kino Lorber.
Frank J. Avella is a film and theatre journalist and is thrilled to be writing for EDGE. He is also a proud Dramatists Guild member and a recipient of a 2018 Bogliasco Foundation Fellowship. He was awarded a 2015 Fellowship Award from the NJ State Council on the Arts, the 2016 Helene Wurlitzer Residency Grant and the Chesley/Bumbalo Foundation Playwright Award for his play Consent, which was also a 2012 semifinalist for the O'Neill. His play, Vatican Falls, took part in the 2017 Planet Connections Festivity and Frank was nominated for Outstanding Playwriting. Lured was a semifinalist for the 2018 O'Neill and received a 2018 Arch and Bruce Brown Foundation Grant. Lured will premiere in 2018 in NYC and 2019 in Rome, Italy. LuredThePlay.com
Comments on Facebook