Pageant Material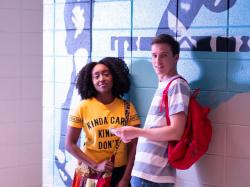 For his "Pageant Material," feature film directorial debut, Jonothon Mitchell has queered up everyone's favorite childhood fairy story: "Cinderella." In Mitchell's take, the heroine is a hero, albeit a "fairy" one, who lives in the Deep South with his wicked step daddy and his two thuggish step-brothers who literally want to beat the life out of him.

Teenage Rodney (Hart Morse) is openly gay and refuses to climb back in the closet even though everyone in this small town attempts to make his life hellish. His best, and only, friend, Monique (Marianne Johnson), is studying to be a beautician; she practices her skills on Rodney. His dream is not to meet his Prince Charming (yet), but to enter and win a Teen Drag Pageant.

There are, however, the small problems of somehow getting to Atlanta, and also finding something to wear. The latter is solved by rifling through the trucks holding his late Momma's clothes; she was a Pageant Queen in her day.

Rodney tricks his Step-Daddy into allowing him to go to Atlanta on an alleged school trip, but Boone (Tyler Scott), his older stepbrother - who has at least one brain cell - catches on to the real reason for the trip. This results in yet another beating for Rodney, one that might have finished him off completely if he had not escaped in the nick of time.

Bloodied and bruised, Rodney stops off as all all-night diner to wash himself down, and whilst he is doing that, his bike gets stolen. With his face all cut up. penniless and rideless, stuck in the middle of the night in the middle of nowhere, Rodney is in total despair. Cue the Fairy Godmother in the shape of  Miss Jackie (Catherine Dyer), the diner waitress, who gives Rodney hope. If you remember how Cinderella turned out, then you'll know he is set for some sort of happy ending.

This campy, sweet dramedy is an entertaining film that most of us will enjoy. For other young LGBTQ adults who have had, or are having, a torturous home life simply because of their sexuality or gender identity, this story is probably too close to home to bring them any joy.  Amongst its cute merriment, "Pageant Material" serves as a sharp reminder that in some parts of the U.S., even in this day and age, being gay can be a death sentence.
Roger Walker-Dack, a passionate cinephile, is a freelance writer, critic and broadcaster and the author/editor of three blogs. He divides his time between Miami Beach and Provincetown.
Comments on Facebook