Cousins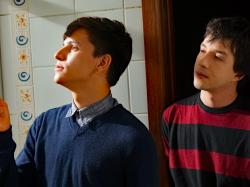 Brazil's venomously anti-LGTBQ leader, Jair Bolsnaro, might have slammed the door on government grants for movies that include gay content, but it's hard to imagine that the filmmakers of that nation won't respond as filmmakers in other oppressive regimes — such as Iran — have done, by growing more creative and clever.

Still, whatever happens, we have a wealth of recent LGBTQ films from Brazil to treasure. Directors Mauro Carvalho and Thiago Cazado claim a place among those movies with their feature "Cousins," a charmer in which an orphaned gay teen living with his deeply religious aunt in a small town finds true love with the arrival of a distant cousin.

Lucas (Paulo Sousa) is talented with the keyboard but shy when it comes to girls. His new music student, Julia (Duda Esteves), is destined to overcome his reticence and seduce him; her ploys grow increasingly bold, even as Aunt Lourdes (Juliana Zancanaro) welcomes Mario (writer and co-director Cazado) into their home.

Mario has just served a two-week stint in jail. He claims that the drugs the police found on him were planted there, but there's an easygoing lack of concern for legalities that suggests he might be a somewhat unreliable narrator where this is concerned. (The fact that he arrives with a joint clenched between his fingers is another hint.) But does that make him a bad guy?

Lucas is uncertain at first, and his edginess is increased by Aunt Lourdes being away at a religious retreat right when Mario is due to show up. It's not long, though, before Mario charms Lucas and begins to get him to lower his defenses in ways that the frustrated Julia can only envy.

What follows is a story of personal blossoming, deeper faith, and a fairytale romance that takes place against a lightly real-world backdrop suggestive of mendacity, hypocrisy, pettiness, and small-mindedness.

A thumbnail description of the plot could make this film sound like any number of lesser, and far from fresher, cliches, but Cazado and Carvalho put so much light and love into the film that it easily outstrips tired genre formulas. The feel-good aspects — looming problems that find easy answers — are similarly changed from liabilities to pluses as it becomes clear that this is meant to be the sort of sweet romantic fantasy that gay boys the world over are denied. Even better is the chemistry between Cazado and Sousa; they joyfully depict two young men discovering the silly and profound aspects of deep connection, only to discover the inner resources they need to stand by that connection without apologies.

Don't miss your chance to cheer young love as everyone should be free to experience it.
Kilian Melloy serves as EDGE Media Network's Assistant Arts Editor. He also reviews theater for WBUR. His professional memberships include the National Lesbian & Gay Journalists Association, the Boston Online Film Critics Association, The Gay and Lesbian Entertainment Critics Association, and the Boston Theater Critics Association's Elliot Norton Awards Committee.
Comments on Facebook