Review: 'Pier Kids" a Powerful and Compelling Documentary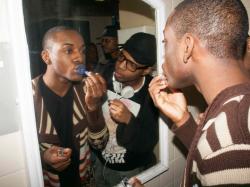 "Pier Kids," Elegance Bratton's compelling documentary on the homeless LGBTQ kids of color that center their lives around the piers in NY's Greenwich Village, has been years in the making. He started filming in 2011 and shot footage up until 2016, by which time of the kids had grown up and a few had sadly died - but most of the scene had essentially remained unchanged.

Bratton's own story accounts for the movie's authenticity, for as an African-American gay teen he had been kicked out of his home when he came out and had lived on the streets for the next few years. He starts his film pointing out the sobering fact that he, and the pier kids, are hardly alone: Of the two million homeless youth, over 50% of them identify as LGBTQ, and then 40% of that total are people of color.

Bratton just lets his cameras roll, and even though there is not a tightly defined narrative he focuses on a handful of kids whom he captures several times over the years.

It's a tough existence for most of them, relying on sex work and pilfering food at CVS to survive, all of which gives some of the kids who were brought up in strict religious households brief pauses for thought. However, they justify their desperate deeds on camera as the only option they have to get by on a day-to-day basis.

The police are a regular presence on the Pier and seem to deploy an excessive amount of officers to deal with the smallest incidents. Aside from that, Bratton's film rarely hints of the what we may have assumed are the scary sides of life here, with the threat of violence always hanging in the air.

One of the kids that Bratton particularly warms to is a trans woman named Krystal LaBeija. Desperate for her mother's acceptance, she hops on a bus to Kansas City, where both her mother and aunt outright refuse to recognize Krystal's reality, quoting their deeply-held religious beliefs. The reunion is calm, with an exasperated Krystal trying to educate her family even though it is obvious they are far too entrenched in their views to ever change. She at least does have communication with her mother, a connection of which most of the pier kids are robbed the moment they are tossed out of their family homes.

Another kid looks into the camera lens and complains that he is discriminated against because he is HIV negative. He had even considered deliberately catching the virus as he is convinced that within three days he would then be given housing and financial aid. It is, sadly, too common a misconception - but nevertheless a straw of hope that some of the kids hang on to.

Bratton's powerful documentary merely observes, so any thoughts or opinions we gather are based on the kids own actions and words. This is essentially a historical record of the facts. Braxton seems almost resigned to the reality that even if one day the pier kids get physically displaced, they will simply reassemble elsewhere to maintain their sense of community which is now so vital to their very being.
Roger Walker-Dack, a passionate cinephile, is a freelance writer, critic and broadcaster and the author/editor of three blogs. He divides his time between Miami Beach and Provincetown.
Comments on Facebook