Watch: Model Karlie Kloss Addresses Being Called Out on 'Project Runway,' Voting in 2020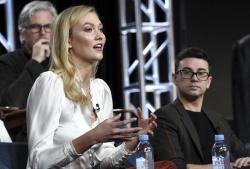 Model Karlie Kloss became one of the first memes of the new decade when the "Project Runway" host was called out by a designer for her relationship with the Trump family.

More specifically, Tyler Neasloney pointed out Kloss's marriage to Josh Kushner, brother of presidential aide to Donald Trump Jared Kushner, who also happens to be married to Trump's daughter Ivanka Trump. In a recent "Project Runway" episode where contestants had to design outfits for Kloss, Neasloney was being critiqued for his garment and judge Brandon Maxwell said he "cannot see Karlie wearing" the outfit "anywhere."

"Not even to dinner with the Kushners?" Neasloney asked.





The quip quickly went viral and the designer is even selling T-shirts with the remark on them — for a good cause as 50% of $35 shirts will benefit the Ali Forney Center, which helps LGBTQ homeless youth.

Kloss recently appeared on Andy Cohen's "Watch What Happens Live!" where the Bravo host pressed the model on the exchange and her political affiliation.

"Honestly, the real tragedy of this whole thing is that no one is talking about how terrible that dress was," she told Cohen. "That's why he went home. And, no, I would not wear that dress to any dinner."

Cohen wasn't too happy with her answer and asked her about her political views.

"Andy, I'm sure I'm not the only person in this country who does not necessarily agree with their family on politics," Kloss said. "I voted as a democrat in 2016 and I plan to do the same in 2020."

Watch the video below.
Comments on Facebook