Top Story
A gay player for England's Premier League admitted his fears of publicly coming out in an emotional letter, the British newspaper The Mirror reports.
1 thru 10 of 53904 Stories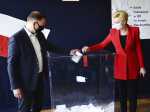 A late exit poll in Poland's presidential runoff Sunday showed the conservative, populist incumbent, Andrzej Duda, leading against the liberal, pro-Europe mayor of Warsaw.
Joe Biden won the Democratic presidential primary in Puerto Rico on Sunday.
Countries in Eastern Europe are facing rising waves of coronavirus infections, leading to riots in Serbia, mandatory face masks in Croatia and travel bans or quarantines imposed by Hungary.
A Republican governor rumored to be eyeing a run for the White House in 2024 said Sunday that the GOP needs to be a "bigger tent party" after President Donald Trump leaves office.
Florida shattered the national record Sunday for the largest single-day increase in positive coronavirus cases in any state since the beginning of the pandemic, adding more than 15,000 cases.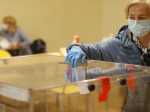 An exit poll in Poland's presidential runoff election shows a tight race that is too close to call between the conservative, populist incumbent and the liberal, pro-Europe mayor of Warsaw
Standing on the podium to celebrate his latest win, Formula One world champion Lewis Hamilton raised a clenched right fist and then delivered a message to his fellow drivers not to slow down in the fight against racism.
Donald Trump criticized a privately built border wall in South Texas that's showing signs of erosion, saying it was "only done to make me look bad," even though it was built after a months-long campaign by his supporters.
Counselors focusing on Black trauma are offering free help, and Black churches are finding new ways to address suicide as social distancing has eroded how people connect.
Last week, President Donald Trump and his administration demanded schools fully reopen right away, slamming schools that want to bring students back for only a few days a week.
1 thru 10 of 53904 Stories