Review: 'Between the World and Me' a Powerful Meditation on the Black American Experience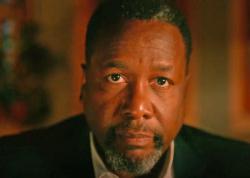 Director Kamilah Forbes and writer David Teague bring Forbes' stage version of the book by Ta-Nehisi Coates to cinematic life, creating a hybrid adaptation that feels like a documentary with bio-pic elements.
"Between the World and Me" is a kind of letter to the author's 15-year-old son. It's a version of the talk than many Black parents feel they need to have with their children — particularly their sons — with regard to the heightened dangers they face while going about their daily business. Some of that danger comes from entitlement that rises, consciously or not, from racist attitudes; some of it comes from blatant prejudice.
Law enforcement is often the focus of public discussion around dangerous (and often deadly) violence directed at Black Americans, but the problem is more widespread and systemic than that. Indeed, Coates' book argues, the American dream itself is built on racism, and on the unthinking assumption that Black bodies can rightfully be destroyed as a matter of American "heritage," or else be "transfigured... into sugar, tobacco, cotton, and gold."
The film takes a view that is at once deeply historical, broad in scope, and also intimately specific. A number of Black actors, both men and women, read Coates' prose. Among them are Oprah Winfrey, Mahershala Ali, Joe Morton, Janet Mock, Phylicia Rashad, Angela Davis, Wendell Pierce, MJ Rodriguez, Angela Bassett, and Ta-Nehisi Coates himself. Coates' prose, which was adapted for the stage by Lauren Whitehead, is backed with a hip-hop soundtrack and illustrated with archival clips, Coates' personal photos, and — in one sequence — a series of exquisitely-done watercolors.
But Coates' own story — and the warning, shrouded in the trappings of a history lesson drawn from America's racist past and present, that he gives his son about living as a Black man in the United States — is only one focal point. Another is the story of fellow Howard University student Prince Jones, a young Black man who died on Sept. 1, 2000 after a police officer fired 16 rounds into his car on a lonely stretch of road. Coates dissects the tragedy with acute analysis that's no less sharp for the rage that burns behind it: While little in the way of an investigation was conducted into the officer, the text charges, "they did everything to investigate Prince Jones."
"This is common for Black people," the narration adds. "This is old for Black people."
But the crowing twist? "The officer that killed Prince Jones was Black." Coates' words on this are taken up in the form of a kind of open mike performance accompanied by a solo drummer, as we're told that even Black politicians "viewed the destruction of the Black body as incidental to the preservation of order."
Though published in 2016, "Between Me and the World" could have been published last week and drawn directly from current events. In many ways, the film version is: Coates describes a visit he paid to Jones' mother — whom he described as "a lady" — and the way she spoke of her slain son. Twenty years later, the film then tells us, Coates interviewed the mother of Breonna Taylor. We see images of demonstrators in the 1960s marching across the Edmund Pettus Bridge in Selma and corresponding images of more demonstrators and the same bridge from last summer. We see police officers attacking civil rights protestors in fifty-year-old footage, and then recognize unrest in the streets of American cities from just a few months ago.
"Son," Coates' words ring, "we are captives surrounded by bandits. This has happened here, in our own land." The words serve as a bookend to an earlier observation: "If you're Black, you were born in jail" — a jail not necessarily made of concrete and iron bars, but rather of marginalization and relegation to some sort of "less-than" status, attitudes that are crystallized when Coates encounters a hostile white woman who shoves his young son for getting in her way. When Coates protests, a white man takes up her cause, telling Coates, "I could have you arrested." The fundamental problem is that the man was not exaggerating — and that such an arrest could too easily turn out to be life-threatening.
But for the dangers faced by African-Americans, and for the ever-growing body count that props up the failing pillars of a crumbling power structure, there's still hope and comfort, as well as strength in community. That community is "bound," Coates' text says, "because they suffered under the weight of the dream" — the same dream that "rests on our backs, the bedding made from our bodies."
"They made us a race," Coates' words tell us, in seeming rejection of the idea that race is a matter of skin tone. "We made ourselves into a people."
The film ends with a long — far too long — list of names; victims of racist violence; names that pepper the film. Names, the film has spend 80 minutes reminding us, of actual people. Those names, like so many of the historical and poetic truths presented here, may bring discomfort and sadness or rage, but they will not be forgotten.

"Between the World and Me" premieres on HBO on Nov. 21.
Kilian Melloy serves as EDGE Media Network's Assistant Arts Editor. He also reviews theater for WBUR. His professional memberships include the National Lesbian & Gay Journalists Association, the Boston Online Film Critics Association, The Gay and Lesbian Entertainment Critics Association, and the Boston Theater Critics Association's Elliot Norton Awards Committee.
Comments on Facebook