Review: LGBTQ History as Revealed by 'Equal' Has Never Been More Timely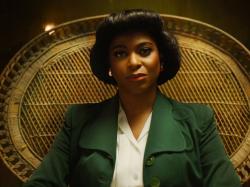 The hidden corners of the LGBTQ civil rights struggle come to light in the four-part HBO Max series "Equal."
The three episodes made available for review explore the beginnings of the push for equality, the presence of transgender and gender nonconforming people in American history, and the intersectionality of race with sexual orientation and gender identity. The docuseries showcases archival footage and interview audio, but also re-creates certain moments in the lives of early LGBTQ leaders, featuring a starry cast of LGBTQ luminaries. Narrator Billy Porter brings flair to the series, and so too do the re-creations of period moments and the people who lived them.
Anthony Rapp portrays Mattachine Society founder Harry Hay, and Cheyenne Jackson plays a lesser-known — but equally important — leader, Dale Jennings. It was Jennings who ended up being entrapped by a vice cop — or, as we hear here, was followed and essentially assaulted before being put under arrest — and whose prosecution led to a trial that effectively put the police before the bench and led to a hung jury and a dismissal of the case. The media didn't cover the trial and its outcome, but gay America was watching, and the case led to a huge increase in the Society's local chapters which, in turn, led to a more conservative strain of leadership taking over,
At the same time, a lesbian organization, The Daughter of Bilitis, had formed, led by Phyllis Lyon (Heather Matarazzo) and Del Martin (Shannon Purser), a lifelong couple who med in Seattle in 1949.
The climate during those post-World War II days was fraught with fear and laden with disinformation that sought to link LGBTQ Americans with communists. Indeed, some early leaders did espouse communist beliefs, but they weren't the Soviet fifth column that Sen. Joseph McCarthy (and his protege, the gay lawyer Roy Cohn, himself later a mentor to Donald Trump) made them out to be. To be LGTBQ in such a climate was dangerous, but some brave souls recognized the greater danger of trying to hide away, accepting smears, false labels, and inauthentic relationships as the price for a very tentative sense of security.
Transgender Americans faced a different set of problems from a society that still too often views them as people who "disguise" themselves rather than understanding that trans people risk — and sometimes sacrifice — everything in order to live as who they authentically are. So-called "masquerade laws," initially passed to prevent famers from pretending to be Native Americans and avoid taxes, became a favorite way for law enforcement to target and prosecute people deemed to be women who dressed and presented as men, and vice versa. Among these were women who passed as men in order to enjoy greater freedoms (and, one must presume, to avoid sexual assault). Others — then as now — were simply dressing in the manner of their deeply held gender identities, such as Lucy Hicks Anderson (Alexandra Grey), a brothel owner whose influence with the local police extended to purchasing the force its first airplane.
Christine Jorgensen (Jamie Clayton) went farther, undergoing gender reassignment surgery and becoming a celebrity in the process. Then there was Jack Starr (Theo Germaine), a character worthy of the Wild West: He was a "moonshiner," we're told, and "a rumrunner" who was outed for wearing men's clothes but who vowed not to let "the world trap me" — and swore that he would "do as I please until the day I die."
Even as the LGBTQ equality movement was starting to coalesce, the civil rights movement was taking shape and gaining momentum. For LGBTQ Americans of color, the challenges were even greater.Some, like playwright Lorraine Hansberry (Samira Wiley), whose groundbreaking stage work "A Raisin in the Sun" was the first pay by an African-American woman to be performed on Broadway, took shelter in heterosexual marriages. (Hansberry's husband, we're told, knew about and accepted his wife being a lesbian; in an intriguing visual, we see Hansberry and her lover, Dorothy [Rachel Paulson], who shared a house, enjoying a moment of domestic bliss on the stage set for "A Raisin in the Sun.")
Others, however refused to sublimate or disguise themselves. Bayard Rustin (Keiynan Lonsdale) was one such man, and though he was a "mentor and advisor" to Dr. Martin Luther King, Jr., the fact that he was gay proved so problematic that, we're told King "turned his back" on Rustin... at least until Rustin organized the historic March on Washington. Lonsdale, as Rustin, has one of the finest, most stirring monologues in the series as he explains exactly why he refused to live in the closet.
Then there was dancer and singer José Sarria (Jai Rodriguez), whose musical acts at the Black Cat in Los Angeles were the stuff of legend, not least because Sarria — who never performed under a stage name, that's how out he was — went on to run for the San Francisco Board of Supervisors years before Harvey Milk won a seat there.
America's LGBTQ citizens have made great strides in recent decades and now, suddenly, face the prospect of equally great setbacks. But if the past can inform and shape the future, it's the stories of leaders like these — the forerunners of the leaders who hold the line today and will do so tomorrow — that we need most. To see and understand that the attacks against our community are nothing new — indeed, have been the rule rather than the exception for much of American history, and remain the default setting for a society built on white, straight male privilege and the force it takes to cement that privilege — is to comprehend just what it takes to safeguard the liberties that are our birthright.

"Equal" premeres on HBO Max Oct. 22.
Kilian Melloy serves as EDGE Media Network's Assistant Arts Editor. He also reviews theater for WBUR. His professional memberships include the National Lesbian & Gay Journalists Association, the Boston Online Film Critics Association, The Gay and Lesbian Entertainment Critics Association, and the Boston Theater Critics Association's Elliot Norton Awards Committee.
Comments on Facebook