Review: Substantial 'The Acrobat' Leaves Little to Imagination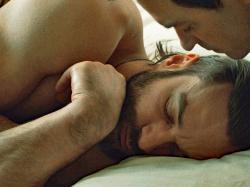 Not all of Canadian filmmaker Rodrique Jean's output necessarily have LGBTQ content, but the last two films he made before his newest — "Love in The Time of Civil War" and "Men For Sale" — are unapologetically about the street hustlers in New York.

Jean uses the city again as the setting for "The Acrobat," by far his most extraordinary and rawest movie to date. It's another bleak, cold winter where the snow is relentless, which may be the reason why the construction of some large apartment buildings are way behind schedule.

Regardless of the fact the buildings are not finished, Christophe (Sébastien Ricard), a successful middle-aged businessman, is still anxious to buy a 20th-floor apartment and move out of what was once his family home. Whilst he is there, he randomly meets Micha (Yury Paulau), a homeless man who has been occasionally sleeping in the empty building.

This chance encounter sparks an immediate chemistry between the two completely different men that quickly leads to rough, and at at times violent, sexual intercourse. No words are ever exchanged, and Micha insists they keep things on an anonymous basis.

We learn that he is a Russian-born acrobat whose career is in jeopardy since he has had an accident that broke his leg and had made him both angry and bitter. He is determined to prove that someone had deliberately forced him to fall, but the Russians in charge of the acrobatic show refuse to agree or give him any of the insurance payout that is due to him.

Christophe, on the other hand, has a dying mother in a nearby hospice whom he visits somewhat infrequently, and who seems the source of his deep-rooted unhappiness.

Rodrigue Jean leaves plenty of gaps in the plot for us to possibly work out what is going through the minds of these two very complicated men, for whom sex is merely a release for internalized rage.

The film includes a lot of very explicit, and extremely erotic, sex that leaves absolutely nothing to the imagination. Ricard is an established and talented actor, but the hunky Paulau is making his film debut here, and both men seem more than comfortable with giving it their all — literally.

The explicitness doesn't mean "The Acrobat" should be dismissed as pornography, as what Jean has created is a tale of anger and resentment in need of an outlet, no matter how explosive that outlet might be.

Out On DVD Today!
Roger Walker-Dack, a passionate cinephile, is a freelance writer, critic and broadcaster and the author/editor of three blogs. He divides his time between Miami Beach and Provincetown.
Comments on Facebook