Review: 'Nightstream: 32 Malasana Street' More than the Sum of its Parts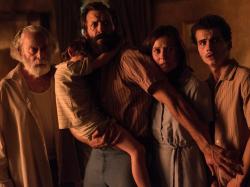 First things first. "32 Maslana Street" is a terrific haunted house movie in the style of "The Conjuring." The problem is a revelation in the final act that will probably cause offense to some. More on that later.
This horror film, which screened during the virtual film festival Nightstream and will have its premier on Shudder on October 22nd, certainly knows how to deliver the scares and the fun, but it does feel cribbed from a number of other horror movies, most notably "Poltergeist," with a third act moment being swiped from "The Exorcist." That said, all of it works beautifully and provides horror fans with an effectively frightening treat to make your skin crawl this Halloween season.
The film opens in 1976 as a blended family of six move from a farming village, where they've had some personal trouble, to a large apartment in the middle of Madrid. There's department store clerk mom Candela (Bea Segura), stressed-out blue-collar father (and stepfather to the two eldest) Manolo (Ivan Marcos), 17-year old love-sick Amparo (Begona Vargas), out-of-work older brother Pepe (Sergio Castellanos), 5-year-old Rafael (Ivan Renedo), and Candela's ailing father, Fermin (Jose Luis de Madariaga.)
No one is too happy about the move, not to mention that the apartment has barely been touched for four years after the previous tenant — an elderly woman - died on the property. All of her stuff is still there, which just adds to the creep factor for the kids.
Soon enough, unsettling things start to occur. Images of someone appears in character's peripheral vision, doors open by themselves, the phone rings, the rocking chair rocks, and eventually — after a nerve-wracking sequence — Rafael goes missing.
Things don't settle down, and it's to director Albert Pinto's credit that he keeps building on the scares, sometimes navigating three unnerving sequences at once. A lot of the spooky stuff is familiar, but Pinto knows how to direct his scenes with tension and jolts. There are jump scares a-plenty, but he also knows how to dredge up dread with silence.
Eventually, there comes a woman and her daughter who will help the family figure out what's wrong in their apartment, hearkening back to a few dozen haunted house movies before it. Here, it is staged a bit differently and it really is effective.
The film, which is based on true events, does have an explanation for what is happening to the family that feels original. There will be some that find this justification offensive, and I totally understand why. However, I was happy to see that one of the main characters says the right thing at the right time in order to put the "offense" into the proper perspective. The issue is, it could have been hit a little harder for it to feel okay as a twist. That said, it does allow for some compassion toward the entity at the heart of the film, which was interesting and welcome.
Aside from that, the movie is honestly a real treat. The gloomy and drab apartment is a great setting for the terror to unfold, and the screeching score adds to the unease.
I love haunted house films, but it's rare that they are effective. While "32 Masalana Street" certainly does its share of cherry-picking other classic horror movies, it still manages to squeeze some inventive chilling moments out of them and twists this family's tale it into its own version of "The Amityville Horror."
There really is a Masalana Street in Madrid, but it only goes up to the number 30. Perhaps there's a reason why...

"32 Malasana Street" will premiere on Shudder on Oct. 22nd.
Kevin Taft is a screenwriter/critic living in Los Angeles with an unnatural attachment to 'Star Wars' and the desire to be adopted by Steven Spielberg.
Comments on Facebook