Top Story
Taiwanese legislators are scheduled to decide Friday on legalizing same-sex marriage, marking a potential first in Asia.
1 thru 10 of 7239 Stories
EuroPride descends on Vienna this June. Here's an insider's look at the city's LGBTQ history.
A Southern California aquarium has built what is believed to be one of the world's largest habitats for surreal sea dragons, whose native populations off Australia are threatened.
In Montreal each spring, an epic bicycle festival demonstrates how 25,000 people can let the good times roll without bumping into each other too much. 
The battle for Cuba's economic future is being waged on its beaches. And at its all-inclusive resorts, dive sites and cobblestoned colonial plazas.
Kristin Chenoweth has been declared "Queen of the High C's" and VACAYA's godmother, along with Katharine McPhee, Leslie Jordan, Alex Newell, and Lesli Margherita headlining the inaugural August cruise.
The 79-room annex at Mount Rainier National Park's Paradise Inn has reopened after a $25 million renovation.
The average American would happily add six and a half hours onto their traveling time if it meant they could avoid the airport and road trip to their destination instead, according to new research.
Can you have too much of a good thing? Not when you're in Palm Springs. EDGE scoped out some of our favorite locales in the Coachella Valley.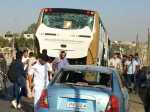 A roadside bomb hit a tourist bus on Sunday near the Giza Pyramids, wounding at least 17 people including tourists, Egyptian officials said.
It's nacho average hotel. Taco Bell is taking over a hotel in Palm Springs, California, for three nights this August.
1 thru 10 of 7239 Stories