Topics :: Sisters of Perpetual Indulgence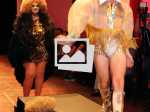 The Sisters teamed up with local designers to bring Project Nunway X to San Francisco. Each sister and designer had a budget of $250 to design an outfit made out of at least 50% recycled material.
Over 350 Sister's of Perpetual Indulgence from around the world came out to San Francisco on Easter Sunday to celebrate their 40th anniversary. The Hunky Jesus' and Foxy Mary's also came out to celebrate on this festive day,
Project Nunway 9 to 5: Work! Hit San Francisco. The sister's were paired up with local designers, given $500, and had to create an outfit that was made with 50% recycled Material.
Easter Sunday in San Francisco was just perfect for an Easter egg hunt, games for the kids, awesome bands, an Easter bonnet contest, a Foxy Mary contest and a San Francisco original, The Hunky Jesus Contest.
The Sisters held their eighth annual Project Nunway. They were paired with local fashion designers to create costumes with recycled material with a budget of $100.
The national premiere of a documentary about San Francisco's Sisters of Perpetual Indulgence will be the highlight of a star-studded evening.
The rain didn't stop people from joining the Sisters in celebrating their 38th annual Easter in the Park. Highlights included an Easter bonnet contest, a Foxy Mary look-a-like, and the Hunky Jesus contest.
The Sisters of Perpetual Indulgence have taken on a powerful global mission, and it is something members of the order take most seriously.
Two Sisters of the San Francisco order of the Sisters of Perpetual Indulgence are going to Prague Pride to educate around LGBT issues and to spread goodwill in the Czech Republic.
The LA Sisters of Perpetual Indulgence won the 5th Annual Drag Queen World Series against The West Hollywood Cheerleaders. Money raised at the event will benefit The Life Group LA, to continue providing education support to persons affected by HIV/AIDS.