Top Story
Odyssey Wellness Tattoo's Darlene DiBona shares her insights on how tattoos can offer healing and hope beyond their cosmetic appeal.
Rihanna reveals some new details about her forthcoming ninth album.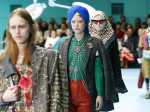 Nordstrom has apologized to Sikhs for selling a turban they found offensive, but a representative with the U.S. community's top civil rights organization said they are still waiting to hear from the Gucci brand that designed it.
As the Cote d'Azur extravaganza has unspooled over the last week, photographer Petros Giannakouris has focused his camera lens on the smaller fashion details of the festival's famed red carpet.
It's been a minute since a new fashion design competition has occurred. Enter: "Next in Fashion," soon to come on Netflix.
Walmart warned on Thursday that higher tariffs on imports from China will mean higher prices.