Out in the Park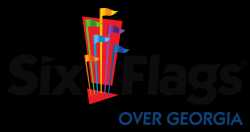 When:
Saturday June 1

Where:
Six Flags Over Atlanta
275 Riverside Parkway, Atlanta GA

Map It
Visit Website Visit Facebook Event Buy Tickets
About:

Out in the Park, presented by Atlanta Pride, will be held Saturday, June 1, 2019. Atlanta Pride is Georgia's oldest non-profit agency serving LGBTQA community and works as a resource of gender diverse communities in Atlanta and the Southeastern United States.

Enjoy a day of fun and an exclusive all-you-can-eat catered meal at our Private Picnic Pavilion located across from SkyScreamer. Unlimited beer and wine pre-purchase available! Exclusive Private Pavilion Party is 2:00 p.m. to 4:00 p.m. EST.

The Catered Buffet Meal includes boneless chicken wings in assorted flavor, beef brisket, summer fresh fruit salad, macaroni salad, ice cream bars and Coca-Cola Fountain drinks. A vegetarian option will be available by request only.

Be sure to purchase the Deluxe Package for unlimited beer and wine! Beer and wine package not available for purchase on event date!