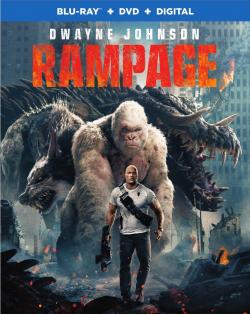 "Pure entertainment, 'Rampage' is a smashing good time."
Adam Graham, Detroit News

RAMPAGE

4K Ultra HD and Blu-ray debuts on July 17

Watch an unshakeable bond form between an extraordinarily intelligent gorilla and noteworthy primatologist when "Rampage" arrives on 4K Ultra HD, Blu-Ray 3D Combo Pack, Blu-ray Combo Pack, DVD and Digital. Global icon Dwayne Johnson headlines the action adventure "Rampage," directed by Brad Peyton.

In 1993, a breakthrough new technology gave scientists a path to treat incurable diseases through genetic editing. In 2016, due to its potential for misuse, the U.S. Intelligence Community designated genetic editing a "Weapon of Mass Destruction and Proliferation." Johnson stars as primatologist Davis Okoye, a man who keeps people at a distance but shares an unshakable bond with George, the extraordinarily intelligent, incredibly rare albino silverback gorilla who has been in his care since he rescued the young orphan from poachers. But a rogue genetic experiment gone awry mutates this gentle ape into a raging creature of enormous size. To make matters worse, it's soon discovered there are other similarly altered animals. As these newly created super creatures tear across North America, destroying everything in their path, Okoye teams with discredited geneticist Kate Caldwell (Naomie Harris) to secure an antidote, fighting his way through an ever-changing battlefield, not only to halt a global catastrophe but to save the fearsome creature that was once his friend.

Special Features:

-Not A Game Anymore - From arcade sensation to movie monster epic, we explore how the Midway video game inspired the filmmakers to create the ultimate disaster film.

-Gag Reel - Hilarious outtakes and mishaps captured during production.

-Deleted Scenes - Deleted scenes that barely missed the final theatrical cut.

-Rampage - Actors in Action: Strap in for a wild ride as Dwayne Johnson, Joe Manganiello and the cast prepare for the film's demanding stunts and explosive set pieces.

-Trio of Destruction - Follow the innovative design team and the artists at Weta Digital as they bring to life the biggest and baddest monsters for the film's climactic battle royal.

-Attack on Chicago - Director Brad Peyton reveals the challenges of filming on-location in Chicago and turning digital destruction into a cinematic reality.

-Bringing George to Life - Discover the wonder of what it's like to be a gorilla, as movement coordinator Terry Notary teaches actor Jason Liles how to move, behave and become "George."

https://www.facebook.com/RampageTheMovie

Enter to win!

Thanks for visiting EDGE!

Enter this contest
If you already have an account with EDGE, all you need to do is log in; we'll pull your address information from your account and simply ask you to verify it. If you do not yet have an account with us, register now! It's easy and free, and you'll never have to type in your personal information again. If you prefer to enter this information manually, you can use the manual entry link below.
Register
Manual Entry
Click here for contest rules.
* Please be aware that creating multiple accounts for the same person will disqualify you.