It Doesn't Sound Like 'Watchmen' Season 2 is Going to Happen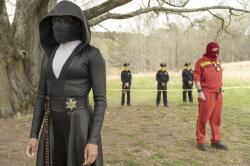 Bad news for fans who wanted a second season of the "Watchmen" TV show.

Producer Damon Lindelof, who co-created the HBO series based on the beloved comic books, told USA Today that he is passing on doing a second season but he has "given my blessing" to HBO to go ahead without him. The network, however, said it was unlikely to move forward with the show without Lindelof's involvement.

Before speaking to USA Today, HBO President of Programming Casey Bloys told Deadline that "it is really up to Damon" whether or not "Watchmen" continues.

"Truly, I don't know at this point whether it is a returning drama series or a limited series," Bloys said. "I think one of the things Damon did so brilliantly was, he opened up this entire world. So maybe there is another version with a whole new set of characters. I don't know because Damon doesn't know, and I'm taking his lead on this."

The TV exec added he's interested in anything Lindelof wants to do — "Watchmen" or otherwise.

"If it's a season two — great, if it's a new take on the world — great, if it's something else completely, I'm just going take his lead," he told Deadline.

Based on the '80s comics of the same name, Lindelof's take on "Watchmen" focused on racism in the United States and starred a diverse cast, including Oscar-winner Regina King, Jean Smart, Jeremy Irons, Hong Chau, Tim Blake Nelson, Don Johnson, Yahya Abdul-Mateen II and more.
Comments on Facebook