1 thru 10 of 4356 Stories
Entering its fifth season Friday, Netflix's (probably) popular comedy "Grace and Frankie" is showing no signs of stopping.
"The Elite Daily Show"'s Zach Noe Towers now hosts "Out on Stage," a series streaming Dekkoo that gives LGBTQ comics a space all their own. Prepare to clutch yer pearls! Towers tells EDGE all about it.
A Florida-based company featured on the television show "Project Runway All Stars" is kicking off a new line of leather accessories as part of an effort to help survivors of human trafficking.
Steve Carell is starring in a new workplace comedy that could be out of this world.
Kirsten Gillibrand is hitting the television daily double this week. The New York senator announced her presidential candidacy on Stephen Colbert's "Late Show," following it up with an MSNBC interview Wednesday with Rachel Maddow.
As the fifth-season adventures of "Grace and Frankie " begin, viewers can rest assured there's more to come.
The TLC reality series "90 Day Fiancé" may have ended its seventh season on Sunday, but the drama continued for three of its couple on Monday.
The long running animated series "Family Guy" will start to do away with telling jokes at the expense of the gay community.
Netflix is raising its U.S. prices by 13 percent to 18 percent, its biggest increase since the company launched its streaming service 12 years ago.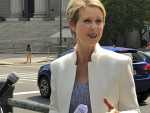 Ryan Murphy's upcoming Netflix series "Ratched" is coming into focus.
1 thru 10 of 4356 Stories