Here are four TV shows debuting later this year that you have to check out.
In 1964, Stanley Kubrick, on the recommendation of the science-fiction author Arthur C. Clarke, bought a telescope.
A solid B-horror/thriller, "Crawl" might not be the most appropriate descriptor, but who cares when there are alligators.
Bolstered by fantastic chemistry between its leads, "Stuber" is wonderfully entertaining if, ultimately, hopelessly generic.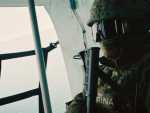 Richard Ladkani is both cinematographer and director and this film is investigative documentary journalism at its best. Ladkani not only brings awareness against an endangered species but the necessary fearless battles it will take to save marine life.
In its ridiculous premise, "Sword of Trust" draws you in and then floors you with its surprising depth and subtle witty humor.
Director/writer Lulu Wang's "The Farewell" is one of the most touching films of the year. Seek this film out if it's playing in your city.
One of the most prestigious of the many LGBTQ film festivals, OutFest, celebrates 37 years and will run July 18-28, 2019. Frank Avella previews what to see at this year's festival.
Director Jon Favreau's remake of "The Lion King" is one of the most terrifying films of the year. In the new string of Disney live-action adaptations, this one may be the most wrongheaded of them all.
Film director Lulu Wang knew her pitch for "The Farewell" was unconventional.