Lana Del Rey Reportedly Wants to Play Priscilla in Upcoming Elvis Biopic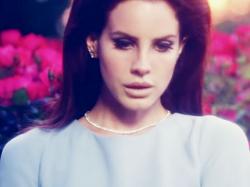 Lana Del Rey is begging to play Priscilla Presley in Baz Luhrmann's upcoming Elvis Presley biopic, according to a report from the gossip site Radar Online.

After it was announced that actor Austin Butler was cast as the music icon, it looks like LDR would love to star opposite the young actor.

"Lana feels it's a role she was born to play," a source told Radar. "She's has her agent badgering Baz for months now, hoping to get her cast. Lana looks just like Priscilla and has decided there's no way she won't get the part."

Indeed, LDR is a fan of The King, having recorded a song called "Elvis" for the 2018 doc about the singer. Throughout her career, the "Summertime Sadness" crooner has evoked American tropes in her work, including Elvis and Priscilla Presley. This also isn't the first time LDR has worked with Luhrmann. She recorded the song "Young and Beautiful" for the filmmaker's last movie, the 2012 drama "The Great Gatsby."

Radar Online's source, however, said that Luhrmann is "nervous" about casting LDR since "she hasn't exactly proved her acting chops."

"But it's her lifelong dream to break onto the big screen," the source added. "She's been driving her friend Kristen Stewart crazy, badgering her for method acting tips at every opportunity."

It was reported that Butler, along with several other actors, had to audition for the Elvis role in full hair and makeup.

"I knew I couldn't make this film if the casting wasn't absolutely right, and we searched thoroughly for an actor with the ability to evoke the singular natural movement and vocal qualities of this peerless star, but also the inner vulnerability of the artist," Luhrmann said in a statement. "Throughout the casting process, it was an honor for me to encounter such a vast array of talent. I had heard about Austin Butler from his stand-out role opposite Denzel Washington in 'The Iceman Cometh' on Broadway, and through a journey of extensive screen testing and music and performance workshops, I knew unequivocally that I had found someone who could embody the spirit of one of the world's most iconic musical figures."

Butler will star alongside Tom Hanks, who plays Elvis's manager Col. Tom Parker. The film is slated to start shooting in early 2020.
Comments on Facebook