Opening October 15 and on view through February 15, 2020, Burton's exhibition, "Lost Vegas: Tim Burton @ The Neon Museum Presented by the Engelstad Foundation," will showcase original fine art.
The Kennedy Center will be opening an expansion of ten new buildings called The Reach in September. Robert Van Leer, Sr VP of Artist Planning spoke to EDGE about the ten new spaces which will encourage public involvement in the creative process.
It's been said that if you're not an artist when you first visit San Miguel de Allende, you'll certainly be one by the time you leave.
Andy Warhol transcended a photographer's copyright by transforming a picture of a vulnerable and uncomfortable Prince into an artwork that made the singer an "iconic, larger-than-life figure," a judge ruled Monday.
1881 Napa, a wine history museum and tasting salon, opened this month in Oakville, about 60 miles (97 kilometers) north of San Francisco
"Toy Story 4" hung onto the top spot in its second week in theaters and the horror sequel "Annabelle Comes Home" opened in line with expectations, but the Cinderella story of the weekend was actually the third place movie: "Yesterday."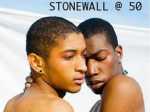 To mark the 50th anniversary of Stonewall, Drexel University presents an exhibit of 60 Philadelphia-based LGBTQ artists in celebration of the event. EDGE spoke to curators Janus Ourma & David Acosta about the event.
The massive skeleton is the culmination of a decades-long quest by the National Museum of Natural History to acquire a rare and coveted T. rex skeleton
Bernie Taupin is known for his longtime musical work with Elton John, but the British songwriter's visual artistry is stepping into the spotlight through an art exhibit.
Five new murals are up or going up in New Orleans, within walking distance of each other. Organizers say it's the first phase of a project to bring the vibrancy of the city's art scene outside gallery walls.