The New York Botanical Garden has announced 2019 as its year of #plantlove. Exhibitions, programs, and projects will explore the essential connections between plants, people, and the environment.
The V&A exhibit traces the influence of Dior over seven decades and showcases dozens of spectacular couture gowns.
After the smashing success of its Alexander McQueen show, London's V&A Museum is looking to draw big crowds with another major fashion exhibition — this time focusing on Christian Dior.
The University of Notre Dame will cover murals in a campus building that depict Christopher Columbus in America, the school's president said.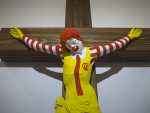 An art exhibit in Israel featuring a crucified Ronald McDonald has sparked protests by the country's Arab Christian minority.
It's a museum that invites visitors to come! Sit! And stay. The American Kennel Club Museum of the Dog opens Feb. 8 in midtown Manhattan, returning to New York after three decades on the outskirts of St. Louis.
The Louvre in Paris, the world's most visited museum, received a record 10.2 million visitors in 2018, numbers boosted by a video clip shot by pop star Beyonce amid its paintings and sculptures.
The Grand Egyptian Museum has been under construction for well over a decade and is intended to showcase Egypt's ancient treasures while drawing tourists to help fund its future development.
A Venetian cloth dyer's son, Tintoretto spent his entire career in Venice, becoming widely considered the last great painter of the Renaissance.
An impressive marble sculpture of the first king of Israel, which disappeared from public view for 150 years, has been acquired by a North Carolina art museum from a boarding school in England.