Hannah Gadsby is following last year's breakout Netflix stand-up special with a new U.S. tour that has stops in San Francisco and ends in New York this summer.
It's Hertha.
Two right-wing websites have cut ties with conservative writer Denise McAllister after she went on a homophobic tirade on Twitter against a gay journalist.
Jon Lovett left Washington for LA after working for President Obama, but has been pulled back into politics with the success of his podcasts. EDGE spoke to Lovett about the political moment as he & his "Pod Save America" cohorts tour the country.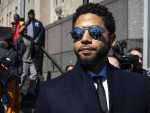 Ever since the first stirrings of national inevitability in the 17th century, ever since the colonists declared independence by citing truths they held to be "self-evident," being definitive has been the American way.
With new dating apps appearing seemingly daily, there is a sense that more and more people are hooking up on a regular basis. But if you are not, you are in good company.
Beyonce was named entertainer of the year at the 50th annual NAACP Image Awards that highlighted works by entertainers and writers of color.
The Chinese gaming company that recently bought the gay dating app Grindr is being forced to put it up for sale over security concerns.
Makeup artist and YouTube star James Charles is no stranger to controversy and Twitter is dragging him over his latest video in which he uses the slang term "the house."
A media narrative declaring President Donald Trump the clear victor of special counsel Robert Mueller's Russian electoral tampering investigation settled in Sunday before more than a handful of Mueller's actual words has become public.