Actor Arnold Schwarzenegger was assaulted during a public appearance in South Africa on Saturday, but the 71-year-old appeared to quickly recover and say "I'm just glad the idiot didn't interrupt my Snapchat."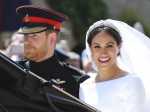 It's been an eventful first year of marriage for Prince Harry and the former Meghan Markle, now known formally as the Duchess of Sussex.
Alex Rodriguez has four bathrooms in the $17.5 million apartment he shares with Jennifer Lopez. This week he made the mistake of sitting in the wrong one.
Britney Spears' manager is saying that the pop icon may never perform again.
Anjelica Huston isn't apologizing after making pointed comments about some of her acting contemporaries and past relationships during press tour for "John Wick: Chapter 3 - Parabellum."
Georgia and Hollywood are worlds away from one another, physically and culturally, but irresistible tax incentives have turned the state into a filming powerhouse dubbed "Hollywood of the South."
Julianne Moore said Wednesday that larger efforts are needed in order for the movie industry to reach gender parity, and that means implementing quotas.
Oscar-winning screenwriter & activist Dustin Lance Black thinks that now is the time to tell the story of his close, sometimes contentious relationship with his late mom. He put his experiences in his new memoir, "Mama's Boy."
Tim Conway, the impish second banana to Carol Burnett who won four Emmy Awards on her TV variety show, starred aboard "McHale's Navy" and later voiced the role of Barnacle Boy for "Spongebob Squarepants," has died. He was 85.
At an event promoting the upcoming slate of Fox shows, the cast of the "Beverly Hills, 90210" reboot remembered their castmate Luke Perry, who died earlier this year.