1 thru 10 of 7301 Stories
Elle Fanning, the youngest juror ever at the Cannes Film Festival, said she's been transformed by her experience at the French festival.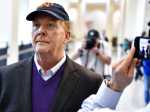 Celebrity chef Mario Batali, whose career crumbled amid several sexual misconduct accusations, pleaded not guilty Friday to a charge that he forcibly kissed and groped a woman at a Boston restaurant in 2017.
Kendall Jenner, Antonio Banderas and other stars attending the nearby Cannes Film Festival turned out Thursday for the 26th amfAR Gala to raise money for AIDS research.
Lada Gaga's multiple fashion reveals were a big moment at the Met Gala, and a sweet one for her friend Brandon Maxwell.
One of Jussie Smollett's conditions after posting $10,000 bail amid charges he lied about being the victim of a racist, anti-gay attack was that he have no contact with two brothers police say he paid to help stage the incident.
A judge in Chicago has ordered the file in the Jussie Smollett criminal case unsealed.
A federal court has ruled that the husband of "Real Housewives of New Jersey" cast member Teresa Giudice can stay in the U.S. as he appeals deportation to his native Italy.
Rihanna, the first black woman in history to head up a major Parisian luxury house, is unveiling her first fashion designs for Fenty at a pop-up store in Paris.
James Bond is out of commission for a few weeks. Star Daniel Craig is undergoing minor ankle surgery after sustaining an injury while filming the 25th installment in the franchise in Jamaica.
Prosecutors have declined to file charges against actor Rick Schroder after an arrest on suspicion of domestic violence.
1 thru 10 of 7301 Stories