Ricky Martin & Husband Jwan Yosef Welcome Baby Boy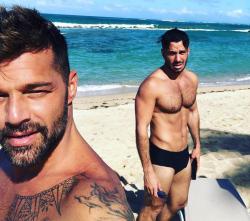 Ricky Martin and his husband Jwan Yosef are welcoming a new addition to their family after announcing last month they were expecting their fourth child.

Taking to Instagram Tuesday, Martin revealed to his nearly 13 million followers the birth of his new son, Renn Martin-Yosef. The photo shows Yosef alongside the pop star, who is holding the newborn.

"Our son Renn Martin-Yosef was born," he captioned the pic, translated from Spanish.

The men are also fathers to 11-year-old twins Matteo and Valentino as well as 10-month-old Lucia.

Martin first revealed he and Yosef, an artist, would be having another child while attending the Human Rights Campaign National Dinner in Washington, D.C.

"My family's here," Martin, 47, said while accepting an award for his LGBTQ rights advocacy. "My husband Jwan, I love you, my beautiful twins, Valentino and Matteo, they're also here, I love you with all my heart.

"You're my strength, you inspire me every day, you motivate me to keep doing what I'm doing and you guys are amazing kids. You guys are amazing. I love you," the singer added. "And by the way, I have to announce that we are pregnant. We are waiting. I love big families."

Check out Martin's new pic below.



Comments on Facebook