PopUps: Gus Kenworthy Scores Another Pic with Shawn Mendes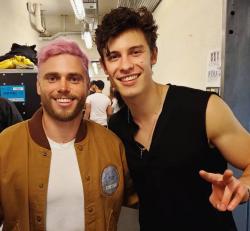 It's no secret that Gus Kenworthy is a huge Shawn Mendes fan, but the Olympic skier just took his fandom to a new level.

Taking to Instagram over the weekend, Kenworthy shared a photo of himself — sporting some cotton candy pink hair — with the pop star. The moment came after a concert in Zurich, Switzerland.

The out athlete captioned the photo: "I knocked over 4 teenaged girls to get this pic..."

Unsurprisingly, Kenworthy's snap has earned a lot of likes — nearly 175,000.





This isn't the first time he's gotten a picture with the "Lost in Japan" singer. Back in August, Kenworthy shared a photo of himself with Mendes, and the pic went viral. The snap also featured actor Colton Haynes, but what sent the photo around social media is Kenworthy photoshopping the logo for gay porn studio Sean Cody into the pic.

"New video coming soon!" the athlete wrote.





Kenworthy also shared a pic of himself and his boyfriend Matthew Wilkas with Mendes.




This story is part of our special report titled "PopUps." Want to read more? Here's the full list.
Comments on Facebook